Posted March 5, 2018
U.S. home prices finally top 2006 highs — mostly
CoreLogic report examines U.S. housing market from 2006 to now.
---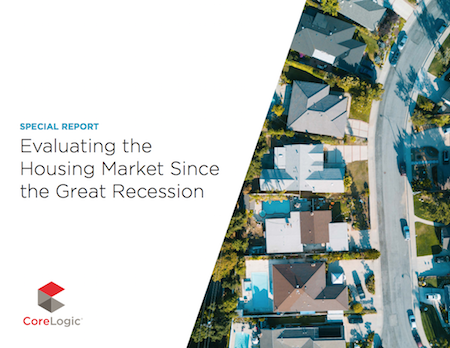 CoreLogic's new report, Evaluating the Housing Market Since the Great Recession, summarizes the housing market's ride from its high in 2006, through the recesssion and back again to now.
From December 2007 to June 2009, the U.S. economy lost over 8.7 million jobs. In the months after the recession began, the unemployment rate peaked at 10 percent, reaching double digits for the first time since September 1982, and American households lost over $16 trillion in net worth.
After a number of economic stimulus measures, the economy began to grow in 2010. GDP grew 19 percent from 2010 to 2017; the economy added jobs for 88 consecutive months – the longest period on record – and as of December 2017, unemployment was down to 4 percent.
The economy has widely recovered and so, too, has the housing market. After falling 33 percent during the recession, housing prices have returned to peak levels, growing 51 percent since hitting the bottom of the market. The average house price is now 1 percent
higher than it was at the peak in 2006, and the average annual equity gain was $14,888 in the third quarter of 2017.
However, in some states – including Illinois, Nevada, Arizona, and Florida – housing prices have failed to reach pre-recession levels, and today nearly 2.5 million residential properties with a mortgage are still in negative equity.
Click here to download the entire report.
CoreLogic provides information intelligence to identify and manage growth opportunities, improve business performance and manage risk. It collects and maintains the largest, most comprehensive property and related financial databases in the United States, Australia and New Zealand, with a growing presence in the United Kingdom, Canada, Mexico and India. Learn more at www.corelogic.com.