Posted March 21, 2018
Sonnhalter agency wins three PRSA Rocks Awards
Construction-focused marketing communications firm wins silver award in written content category and bronze awards in events category.
---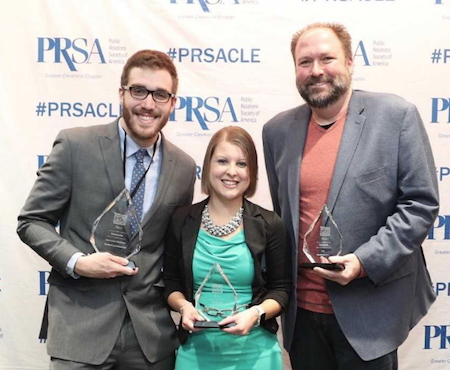 From left to right: Andrew Poulsen, Rachel Kerstetter and Matt Sonnhalter of Sonnhalter
Sonnhalter, the leading B2T (business-to-tradesmen) marketing communications firm, received three PRSA Rocks Awards in the 15th Annual Public Relations Society of America's (PRSA) Cleveland Rocks Awards competition.
Sonnhalter accepted two awards for its client, Viega, and one award for its 8th Annual Sonnhalter – Habitat for Humanity Tool Drive.
Annually, the PRSA-Cleveland Rocks Awards acknowledge Northeast Ohio's outstanding PR programs, which incorporate research, planning, execution and evaluation. PRSA Cleveland Rocks Award winners demonstrate leadership in public relations and contribute to advancing the profession locally.
Sonnhalter received a silver award in the short/medium written content campaign category for Viega's "Filling the Gap with Elastomer" article, and a bronze award in the events category for Viega's 2016 Manufacturing Day.
With a tradition of innovation for more than 115 years, Viega has more than 4,000 employees worldwide and is among the leading manufacturers of pipe fitting installation technology. In metal press systems for industrial, commercial and residential projects, the company is the global market leader.
Viega's "Filling the Gap with Elastomer" article exemplified the company's thought leadership in the industrial fluid handling system industry. Its Manufacturing Day event was part of a nationwide emphasis to promote careers in manufacturing and help alleviate the labor shortage.
Sonnhalter was also honored with a bronze award in the events category for its 8th Annual Sonnhalter-Habitat for Humanity Tool Drive, an event that benefits the Greater Cleveland Habitat for Humanity and collected more than $30,000 worth of tools, building materials, appliances and other items this past August, bringing the total to nearly $220,000 donated since the efforts began in 2010.
"We're excited to receive these three awards for our public relations efforts," said Matt Sonnhalter, vision architect at Sonnhalter. "While our clients know that we always put forth our best efforts for their PR campaigns, being acknowledged by the local marketing communications community for the quality of our work makes us very proud."
Established in 1976, Sonnhalter is a leading B2T marketing communications firm for companies that target professional tradesmen in construction, industrial and MRO markets. Sonnhalter is located in the historic Brownell Building in the heart of downtown Cleveland.
Sonnhalter's brand identity highlights its expertise in marketing to the professional tradesmen. Its tagline, "Not Afraid To Get Our Hands Dirty," promotes the employees' willingness to roll up their sleeves and dig deep into clients' businesses, also, it refers to the market it targets: the tradesmen who work with – and dirty – their hands every day.
Sonnhalter developed the acronym "B2T," which stands for "business-to-tradesmen" to capture the essence of its specialty. For more information, visit the company website at Sonnhalter.com.