Posted March 27, 2018
Walter Surface Technologies launches Grind to the Grid Sweepstakes
Offers a chance to win a Daytona 500 VIP experience.
---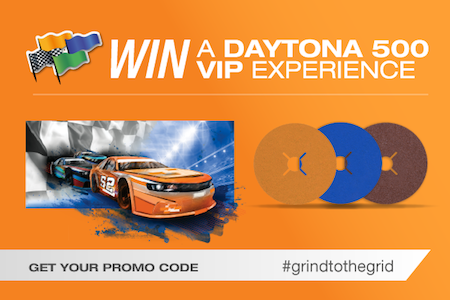 Walter Surface Technologies, a global industry leader in surface treatment technologies, officially launched its "Grind to the Grid" Sweepstakes on March 19, 2018.
Customers who buy specially marked 25- or 50-packs of Walter Coolcut, Coolcut XX or Topcut sanding discs between March 19 and November 18, 2018 can log onto walter.com/grindtothegrid and enter promo codes located inside the product packaging.
Every sanding disc purchased offers customers a chance to win an exclusive VIP entertainment package at the 2019 Daytona 500 or one of 30 weekly prizes.
As part of Walter's industry-leading array of high-performing sanding discs, Coolcut, Coolcut XX, and Topcut bring unmatched efficiency and precision to metalworking sanding.
Coolcut sanding discs feature a premium aluminum oxide grain blend. Coolcut XX and Topcut both ensure exceptional removal rates, even for aggressive sanding. Designed for sanding of steel, stainless steel, and aluminum, these sanding discs outperform virtually all other brands.
"If productivity is a top priority, these sanding discs are a great choice," says Dan Pirro, Vice President of Marketing at Walter. "They're designed to reduce cycle time, streamline the production process, and help users get the job done fast."
According to Mr. Pirro, giving Coolcut, Coolcut XX and Topcut sanding discs a try has two big upsides for customers.
"Our 'Grind to the Grid' contest gives customers multiple chances to win great Walter gear or a trip to the Daytona 500," Mr. Pirro says. "At the same time, they get to experience the benefits of using the industry's best high-performance sanding discs. We want to help our customers work better by encouraging them to put these great products to the test."
Specially marked Coolcut, Coolcut XX and Topcut sanding discs are available from participating distributors. To find a distributor and get full Sweepstakes details, visit walter.com/grindtothegrid.