Posted March 28, 2018
Stahlin launches new web site
Company produces non-metallic electrical enclosures.
---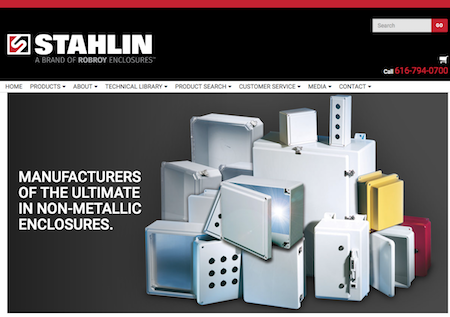 To meet the needs of enclosures specifiers searching online, Stahlin has launched a new user-friendly site that makes finding the right enclosure size and features quick, efficient and secure.
The new website provides details on all of Stahlin's 15 polycarbonate, fiberglass, and PVC enclosure options. This encompasses more than 1,000 parts numbers and 40 configurations, along with correlating thermal and standard accessories.
Stahlin's Current Product Line Includes:
C Series-Fiberglass disconnect enclosure
CF, F and Pushbutton Series- Polycarbonate and fiberglass pushbutton and small junction enclosures
Classic Series- Offers enhanced appearance for any instrument installation
DiamondShield- Developed in fiberglass for design flexibility and pleasing aesthetics
DuraBoxx- Sleek design and shallow depths in fiberglass
J Series- Fiberglass junction boxes with new sizes up to 30" x 24" or 24" x 30"
N Series- Fiberglass enclosures includes Wall Mount and Control Tower options
New Sentry- PVC - Junction enclosure configurations
PolyStar- Polycarbonate enclosures with unique internal mounting design
Starke- Polycarbonate enclosure, opaque & clear covers in small sizes
Back Panels-Back panels for enclosures in both metallic and non-metallic options for most products
Robroy Enclosures Accessories Line with filter fans and exhaust filters, enclosure heaters, thermal controls, LED enclosure lighting, hinges, vents, and more.
Stahlin Non-Metallic Enclosures are compliant with industry standards for hose down water-tightness and corrosion resistance. This includes: cULus Listed for NEMA 250 Type 1, 3, 3R, 4, 4X, 6, 6P, 12, 13, IEC 60529 IP66, IP67, IP68, Temperature Ranges from (-76°F to +274°F) (-60°C to +134°C), Flammability Rating UL94-5V, Self-Extinguishing, Non-Halogenated, Non-Flame Propagating, and NFPA No. 101 Flame Spread Class A (1).
Stahlin Non-Metallic Enclosures pioneered the non-metallic enclosure. For more than 70 years, we have led the electrical products industry in designing, engineering and manufacturing innovative, reliable fiberglass, polycarbonate, PVC electrical, and instrumentation enclosures for diverse interior and exterior applications.
As a proud U.S. manufacturer, we are the primary source producer of our own enclosure components. Stahlin Non-Metallic Enclosures is a brand of Robroy Enclosures (a subsidiary of Robroy Industries, serving the marketplace under one family ownership since 1905).