Posted September 19, 2018
IFS appoints Christian Pedersen as Chief Product Officer
Christian Pedersen joins IFS from SAP, having previously run Microsoft's ERP business.
---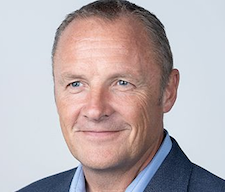 IFS, a global enterprise applications company, announces the appointment of ERP industry leader Christian Pedersen as chief product officer.
In this global role, Christian will set the direction for IFS's portfolio of products that span enterprise resource planning (ERP), enterprise asset management (EAM) and field service management (FSM).
Christian and his team will work with customers, partners and the rest of the IFS organization to envision, develop and deliver compelling solutions for IFS customers today and in the future. IFS's investments in innovation will continue to be focused on delivering value to customers, through differentiated and effective solutions that are easy to understand and adopt by customers, prospects and partners.
Under Christian's stewardship will be the suite of IFS products and solutions which include: IFS Applications, IFS Maintenix and IFS Field Service Management. In his role, Christian will partner with Thomas Säld, IFS senior vice president of product development, to translate customer requirements into tangible products that deliver unmistakable business value.
Commenting on his appointment, Christian said: "IFS has all the ingredients to deliver value to customers like nobody else: great products, committed employees and an engaged customer base. I'm joining because I see a real opportunity for making a difference for businesses around the world and for growth within our target markets. I am confident that our products and solutions will attract even more top tier global customers in the future."
Darren Roos, CEO of IFS, added: "Being able to attract the industry's top talent is testament to the journey IFS is on. The strength of our management is second-to-none and having Christian join demonstrates our long-term commitment to our customers who will benefit from his innovative yet pragmatic approach, and his focus on delivering value."
Based in Seattle, Christian will be working with customers, partners and colleagues across the world to deliver and grow IFS's product proposition.
Prior to joining IFS, Christian was the chief product officer and senior vice president of SAP S/4HANA Cloud, and general manager for Microsoft Dynamics ERP.
Read more about Christian and the IFS executive management team here: www.ifsworld.com/us/company/governance/executive-management/
Learn more at www.ifsworld.com