Posted April 18, 2019
Kennedy Manufacturing launches new website
Improved site adds configuration and shopping tools, system ideas and more.
---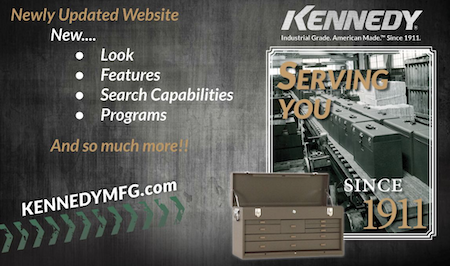 Kennedy has launched a new and improved website to include new program elements. The website has been designed to provide the ultimate user-friendly experience with improved navigation and functionality throughout.
Shopping for Kennedy toolboxes and accessories just got easier and features new product images with product specs and shipping dimensions. Shop Now allows for order placement using credit card, PayPal, and financing capability.
Kennedy has created the Stack & Add program which has taken the guess work out of configuring chests, cabinets, and side cabinets that create over 2,000 + combinations. Users can configure their cabinets with the help of the guides put in place for every chest, roller cabinet, and side cabinet. Kennedy has also put together the most popular combinations that has been shared with us over the years.
If users want to share their stories, images of their Kennedy toolboxes or need additional inspiration from other users, they are encouraged to visit the Outfitter's Club page. Become a member of the Outfitter's Club for getting the news first on Kennedy products, coupons, give-a-ways and much more!
Cost Savings is a key element among businesses and users. Check out the Cost Savings page for how Kennedy could save your company thousands of dollars by providing tool storage solutions for Safety & Security, Total Cost of Ownership, Productivity Improvement, and Organizational Effectiveness.
Coming soon, if you are a history buff and love to explore the elements of how Kennedy has evolved over the ages, visit the History page for historical product images, and catalog and sales flyers dating back to 1920.
Visit thg enew site at www.kennedymfg.com.