Posted April 18, 2019
Simpson Strong-Tie renews Habitat for Humanity sponsorship
Company has supported charitable effort for 13 years.
---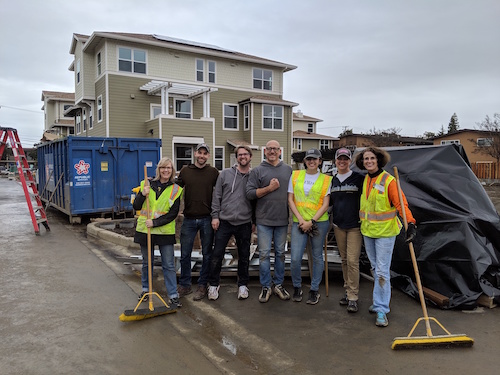 Simpson Strong-Tie, the leader in engineered structural connectors and building solutions, renewed its partnership with Habitat for Humanity International for the 13th consecutive year.
To date, the company has contributed nearly $4 million toward Habitat's goal of helping to provide families in need with an affordable and decent place to call home.
Along with monetary donations, Simpson Strong-Tie donates structural connector framing hardware, fasteners and prefabricated shear walls for new construction.
"We appreciate the long-term investment Simpson Strong-Tie has made in Habitat for Humanity and the homeowners we partner with in the US and around the world," said Lynda Smith, senior director of corporate relations for Habitat for Humanity International. "Their support continues to be invaluable to our vision of a world where everyone has a decent and affordable place to live."
"Giving back is one of our company's foundational values, and supporting Habitat is one way we live up to that value," said Simpson Strong-Tie COO Ricardo Arevalo. "We appreciate the opportunity to support the work they do and look forward to continuing our partnership for the foreseeable future."
For more than 60 years, Simpson Strong-Tie has dedicated itself to creating structural solutions and software that help people build safer, stronger homes and buildings. Considered an industry leader in structural systems research, testing and innovation, Simpson Strong-Tie works closely with construction professionals to provide code-listed, field-tested products and value-engineered solutions.
Simpson engineered structural products and solutions are recognized for helping structures resist high winds, hurricanes and seismic forces. They include structural connectors, fasteners, fastening systems, lateral-force-resisting systems, anchors, software solutions, and product solutions for repairing, protecting and strengthening concrete.
From product development and testing to training and engineering and field support, Simpson Strong-Tie is committed to helping customers succeed. For more information, visit strongtie.com.