Posted July 1, 2019
Southwire Lands Consecutive Appearance on Forbes List of America's Best Employers
Company's strong focus on diversity & inclusion and employees' pride in products and services key contributors to high score for 2019.
---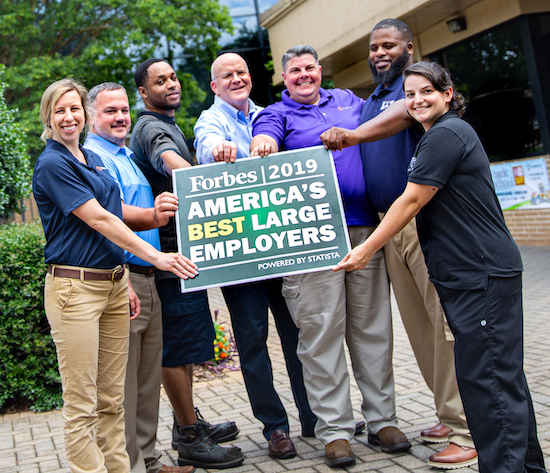 (L-R): Kristen Denney, safety specialist at Southwire's Utility Products Plant, recently OSHA VPP recertified; Jeremy Woodham, Project GIFT volunteer; Freddie Nunn, armoring machine operator at Southwire's MC Cable plant with 16 years of Southwire service; Paul Sims, Georgia Water Coalition Clean 13 Honoree; Christina Cate, proud member of Allied employee resource group; Justin Moten, inaugural Leaders in Training graduate; and Brittany Young, Bridge Scholarship recipient.
Reflecting the company's strong commitment to its employees, Southwire was named by Forbes as one of America's Best Employers for 2019, ranking #114 on this year's list of 500 top businesses.
Forbes list of America's Best Employers highlights the companies that employees like best. Through the support of Statista, an independent statistics and studies company, more than 50,000 people who work at companies employing more than 1,000 people in their U.S. operations were surveyed about their employee experience and were given the opportunity to recommend others in their industry.
This is not the company's first appearance as one of America's Best Employers. Last year, Southwire ranked #297 in the top 500, so the 2019 ranking is a significant advancement. On this year's list, the company ranked third among those in the engineering/manufacturing segment.
"We're approaching 70 years of legacy, and we are incredibly proud to see that both our employees and others in our industry believe that Southwire is a great place to work. Our people are what make our company special," said Rich Stinson, Southwire's President and CEO. "As we grow, we are being more and more intentional about enhancing the employee experience and are gaining insight and feedback from our employees through a variety of ways to ensure we're taking the right steps. This achievement is proof."
Areas in which the survey reflects company success in 2019 include diversity and inclusion and overall employee appreciation and pride for the company's products and services. Over the last several years, the company has set forth a formalized diversity and inclusivity program, creating employee resource groups (ERGs) that place an emphasis on programming, sharing of ideas, collaboration and training for women, people of color, veterans, LGBT, millennials and more, which allow employees to feel free to grow, trusted to try and empowered to be themselves.
"As a team, we know that our D&I initiatives are working, but it is encouraging to see our employees publicly sharing their pride around what we're doing to create a more inclusive environment here at Southwire," said Kelley Park, EVP of Human Resources. "Our ERGs are thriving, and I am excited to see how we continue to grow stronger together through what these groups are doing within our company."
Other areas in which the survey shows strong results include a trusting and fair workplace climate, reward and general interest in job responsibilities.
"As I've said time and time again, it is our commitment that Southwire remains generationally-sustainable for the next 100 years and beyond," said Stinson. "As we believe is true for all of our stakeholders, taking care of our people and listening to and addressing their needs allows us to better align ourselves toward a meaningful future as a business. I am so thankful to lead this great group of people and look forward to many more years of continued growth and success."
For the full list of America's Best Employers, visit www.forbes.com/best-large-employers.
A leader in technology and innovation and an emerging influence in the industrial electrical space, Southwire Company, LLC is one of North America's largest wire and cable producers. Southwire and its subsidiaries manufacture building wire and cable, metal-clad cable, portable and electronic cord products, OEM wire products and engineered products. In addition, Southwire supplies assembled products, contractor equipment and hand tools. For more on Southwire's products, its community involvement and its vision of sustainability, visit southwiresustainability.com.
Learn more at www.southwire.com.