Posted July 2, 2019
Metabo HPT launches Multi-Volt Bare Tool Pricing Model
Online rebate runs through the month of July.
---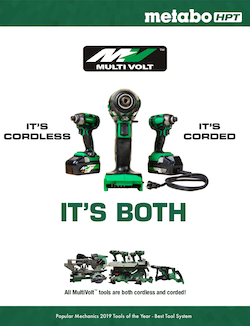 To help customers build their MultiVolt cordless/corded power tool collections, Metabo HPT has launched a bare tool pricing model. The company has issued a flyer with permanent new bare tool pricing for each model and a "Power It Your Way" section that shows all the power source options and prices. There are also new kits coming out in the near future.
To accompany the bare tool pricing, Metabo HPT is running a special online rebate at www.metaboHPTfree.com through the end of July; with each MultiVolt bare tool purchase, customers can submit a rebate for a free AC Adapter or free Triple Hammer bare tool. The bare tool model makes it easier for those who have already bought into the platform to build their MultiVolt collection faster and more easily.
Metabo HPT MultiVolt batteries are priced below the industry average, and those same MV batteries that power the MultiVolt tools can also power any Metabo HPT 18-volt slide type cordless tools, giving 8.0Ah of run time when used in 18-volt tools. Even customers not invested in MultiVolt yet can take advantage of the MultiVolt batteries to get 8.0Ah of run time in their 18V Hitachi or Metabo HPT cordless tools -- including the company's popular cordless nailers.
Learn more at www.metaboHPTfree.com.