Posted July 24, 2019
Roberts Celebrates Winners of 80th Anniversary Sweepstakes
Grand prize winner drives home a "brand new" 1938 Dodge pickup.
---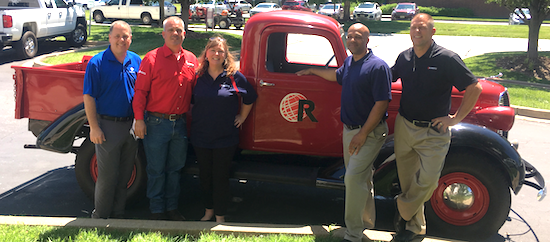 Roberts Consolidated Industries, Inc. announced today the winners of the ROBERTS 80th Anniversary Giveaway Sweepstakes that ran through the end of 2018 and were awarded earlier this year. ROBERTS congratulates Don Lewis of Lewis Flooring in Hillsboro, Missouri, whose name was picked as the Grand Prize Winner of the ROBERTS 80th Anniversary Giveaway Sweepstakes.
As the winner of the grand prize, Don received a restored one of a kind antique 1938 Dodge Pickup Truck, which pays homage to the year ROBERTS was founded. Don submitted his winning entry form with a receipt for ROBERTS tools purchased at the E.J. Welch Company.
On June 10th, the ROBERTS team joined Don and his family at a luncheon held at EJ Welch's Earth City, Missouri location. Don, his family, the Lewis Flooring team and, of course, the 1938 Dodge Pickup Truck were all there to meet contractors and pose for photos.
When recently asked about his new truck, Don stated,"It's still hard to believe that I won. I have a large group of family members that will enjoy the truck for many years to come. God Bless!!"
In addition to Don's winning entry, ROBERTS also congratulates the 10 runner-up winners who received ROBERTS care packages containing a ROBERTS Limited Edition 10-505 Pro Gel Knee Kicker (only 1,938 manufactured and etched with a unique number and 80th Anniversary logo), a ROBERTS-branded jacket, and a ROBERTS T-Shirt. All winners were submitted to, and drawn by, an independent sweepstakes administrator.
Runner-Up Winners:
John Craft of ICR Sales & Service Ldt. - New Brunswick, Canada
Joe Huff of Keene Carpet - Honaker, VA
Dakota Deardutt of FTI Floor Installation Tech - Imperial, MO
Gary O'Briant of O'Briant Flooring & Remolding - Dalton, GA
Robert Shamansky of Roberts Carpet - Clinton, OH
Doug Gibbs of Touchdown Carpet & Floor - Marlboro, MA
Ray Doell of Winkler Floor Fashions Ltd. – Manitoba, Canada
Frank Ollian of Ollian Floor Covering - Albany, OR
William Boehm of Boehm's - Three Lakes, WI
David Steven of Steven's Floor Service - Georgetown, KY
Established in 1938, Roberts is a worldwide leader in the manufacturing, marketing and distribution of a comprehensive range of specialty tools and flooring related products. Responsible for inventing and improving many of the most common flooring tools that are in use today, we continue to introduce innovative, new products that address the challenges of today's professional. Roberts is recognized worldwide as a premier brand of flooring installation tools, adhesives and accessories for the professional installer.
Roberts Consolidated Industries, Inc. is a wholly-owned subsidiary of Q.E.P. Co., Inc. and is headquartered in Boca Raton, Florida, with offices in Canada, Europe, Asia, Australia and New Zealand.
Please visit the Roberts website at www.robertsconsolidated.com and the QEP website at www.qep.com.