Posted January 23, 2019
Weiler Abrasives raises over $68,000 for United Way
Funding will support community programs in Monroe County, Pa.
---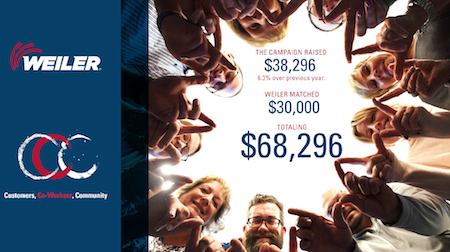 Weiler Abrasives, a leading provider of abrasives, power brushes and maintenance products for surface conditioning, announced it has raised over $68,000 to support the United Way of Monroe County, Pa.
During a three-month long company campaign, running from September to November 2018, employees pledged $38,296, and the campaign received a $30,000 corporate match. The donations will serve to support key local United Way programming initiatives for local residents facing poverty.
These initiatives include access to healthy food and programming for working families, as well as critical housing services and more. Weiler Abrasives reports that 24 percent more employees donated compared to the 2017 campaign, and they exceeded their fundraising goal by 6.3 percent.
"The United Way of Monroe County offers services that have such a positive impact on those in need," says Cristina Matos, Weiler Abrasives Sales and Marketing Analyst and United Way committee chairperson. "We are so excited that we can work together with this great organization to help make the community a better place."
Matos led a United Way committee of 14 employees from key departments at Weiler Abrasives, allowing employees direct access to representatives most familiar with the organization's mission and programming. According to Matos, this provided employees greater insight to the value of the United Way programs serving their community.
The committee also hosted the Weiler Abrasives Fourth Annual Golf Tournament in September at Skytop Lodge in Skytop as a means to fundraise for the campaign, while October featured a variety of raffles to support it.
Weiler Abrasives held its pledge month in November with the majority of contributions collected directly during this time and by way of raffling larger, donated items. Weiler Abrasives has been a supporter of the United Way of Monroe County, Pa. since 2002.
As an industry leader and global manufacturer of surface conditioning solutions, Weiler Abrasives Group is dedicated to forging collaborative relationships with our customers in diverse markets — Metal Fabrication; Industrial Production; and Maintenance, Repair and Operations — to tackle their toughest cleaning, grinding, cutting, deburring and finishing challenges. Weiler Abrasives, One Weiler Dr., Cresco, Pa., 18326-0149 • (800) 835-9999 • www.weilerabrasives.com.