Posted January 30, 2020
McNeilus celebrates 50 years
For half a century, McNeilus has set the standard for reliability and durability in concrete mixers and refuse trucks.
---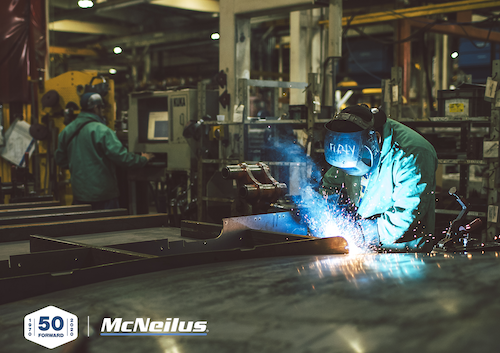 McNeilus Truck and Manufacturing, Inc., an Oshkosh Corporation (NYSE:OSK) company, is celebrating its 50th anniversary this year.
Since its inception, McNeilus has continued to set the standard for reliability and durability with its industry-leading concrete mixers and refuse trucks.
McNeilus began operations in 1970 building concrete batch plants and soon expanded to manufacturing McNeilus-brand concrete mixers.
A new venture in a new industry followed with the launch of the first McNeilus refuse collection vehicle in 1991. Then McNeilus joined the Oshkosh Corporation family of companies known for building premiere severe-duty vehicles across the globe.
Today, McNeilus Truck and Manufacturing employs approximately 1,200 people at its headquarters in Dodge Center, Minn., and another 300 employees across North America. McNeilus concrete mixers and refuse collection vehicles can be found throughout North America and across the globe from the United Kingdom to Southeast Asia to Latin America.
The company has a strong reputation as a reliable brand with vast expertise in the industries it manufactures products for, along with an unsurpassed support and service network. From the formation of McNeilus' Street Smart Parts and Street Smart Service brands in 2001, the company's customer support network has expanded to include branch locations and service centers across the United States and Canada. Street Smart Parts and Street Smart Service provide customers a wide range of parts and service options for both OEM and non-McNeilus products, as well as rigorously-trained mobile technicians nationwide and same-day premium parts availability.
The company's products, services, technology and manufacturing practices have advanced dramatically while continuing to meet and exceed customer expectations. The McNeilus brand is synonymous with partnership and known for offering products, services and technology innovations that provide solutions customers need now and in the future.
Two of the most recent innovations include the award-winning FLEX Controls for concrete mixers and CODE Controls for refuse collection vehicles. Both systems combine vehicle operations, diagnostics and troubleshooting and put it right at the operator's fingertips, offering outstanding control and consistent operation.
McNeilus will commemorate its 50-year milestone with a yearlong celebration including interactive social media content and other promotions, as well as an employee and community appreciation event in July.
"As we celebrate our 50th anniversary, we're already looking ahead and working on the next 50 years and beyond," says Brad Nelson, president of McNeilus Truck and Manufacturing and senior vice president of Oshkosh Corporation's Commercial Segment. "We have a strong foundation and will continue to grow and innovate, while providing what's best for our customers and helping to shape the industry."
To learn more about McNeilus, please visit www.mcneiluscompanies.com and www.mcneiluscompanies.com/about/careers.