Posted February 24, 2020
Carhartt and Guinness team up for St. Patrick's Day promotion
Brands combine to celebrate working heroes and have some fun.
---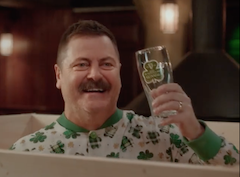 Guinness has a history of decent St. Patrick's Day advertising. But this year it's going the comedic route by enlisting Nick Offerman to appear in a monthlong content series on Instagram counting down to the fabled March 17.
The series began Monday (Feb. 17) with a kooky unboxing video, in which the Parks and Rec actor, clad in an adult-size shamrock onesie, leaped into a giant wooden crate and emerged with a Guinness pint glass.
The official "Guinness Countdown to St. Patrick's Day" will feature "daily reveals of tips, tricks, trivia and suggestions on everything from how to pour the perfect pint of Guinness to what foods pair best with that pint to how to give an authentic Irish toast and much, much more."
"Look, St. Patrick's Day is easily the best of the holidays, and I will brook no argument to that assertion," Offerman said in a statement. "The charismatic folks at Guinness know a thing or two about how to celebrate my favorite day. You'll be able to see it all on Instagram, but if I had to nutshell it, I'd say gather with your family and your friends, both old and new. Eat some delicious meats, like corned beef—straight up or in a hash—wash it down with a pint of Guinness, then wash the Guinness down with some more corned beef. A glass or two of water along the way never hurt, either."

Guinness has also unveiled a collaboration with Carhartt, featuring various apparel, from tees to hoodies to hats and more.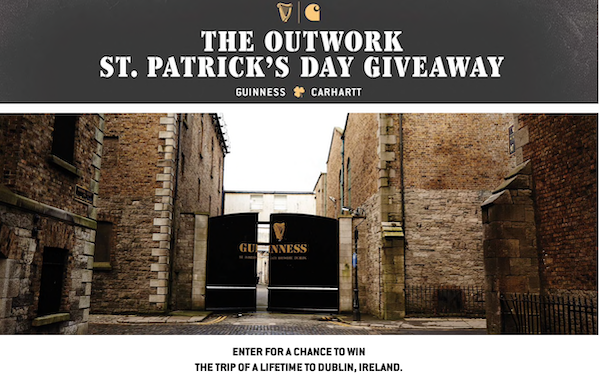 United by the spirit of hard work and master craftsmanship, Carhartt and Guinness have come together to create The Outwork St. Patrick's Day Giveaway.
One lucky grand prize winner will receive a once-in-a-lifetime trip to Dublin, Ireland to experience the legendary history of Guinness brewing. Other winners will receive a trip to Detroit for a unique Carhartt experience, Guinness x Carhartt co-branded gear, and Carhartt e-cards of $25, $50, and $100.