Posted June 29, 2020
STAFDA Anaheim registration is open!
STAFDA's 44th Annual Convention & Trade Show is set for November 8-10, 2020 in Anaheim, CA.
---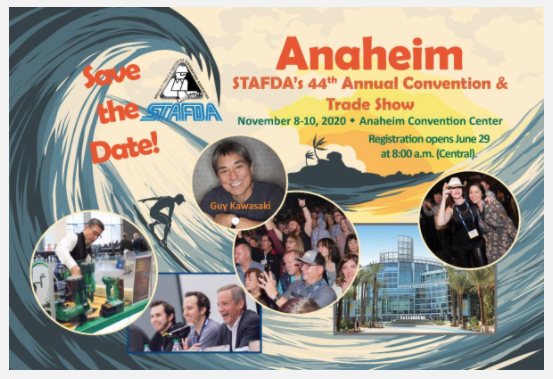 Registration for STAFDA's November 8-10 Anaheim Convention & Trade Show opened Monday, June 29 at 8:00 a.m. Central from the members-only home page of STAFDA's website, www.stafda.org.
STAFDA has sent out several emails regarding safety and health precautions. Please click here to read updates from Anaheim and the state of California. The June Trade News featured many of the safety precautions STAFDA is taking to safeguard members and here are other important factors:
Inline booths will be assigned every other space for social distancing
There will be a designated entrance and exit to the Trade Show
Meeting rooms are being reconfigured to allow for more distance between attendees
Badge retrieval will be touchless with the attendee scanning their bar code, taking the badge printout, and a lanyard. Plexiglass shields will be at registration counters in case an attendee requires assistance
There will be no printed onsite convention program. Attendees, meeting rooms, and all other information will be in STAFDA's convention app
A nurse is required by law to be present over the course of STAFDA's three day meeting
Hand sanitizers will be available throughout the building and in the Trade Show
On June 18, California mandated face coverings when out in public.
Click here to read California's Guidance for Face Coverings
The Anaheim Convention Center (ACC) has been leading the hospitality industry with its pro-activeness on health and safety. The ACC will be the largest exhibition facility on the West Coast to receive Gold Standard Certification for Prepared Facilities which is the gold standard for prepared facilities and the cleaning industry's only outbreak prevention, response, and recovery accreditation.
Click here to read the Anaheim Convention Center's Coronavirus Recovery Plan
For more information on Anaheim safety and wellness, please visit: www.anaheim.net/coronavirus; www.visitanaheim.org/response-and-recovery; and the California Department of Public Health's website, www.cdph.ca.gov
In the event Anaheim city officials, the state of California, or the U.S. government issues a lockdown due to a resurgence of COVID-19 or any other national crisis forcing STAFDA to cancel its November 8-10 Convention & Trade Show, 100% of convention fees will be refunded to the member.
Learn more at www.stafda.org