Posted July 27, 2020
MAX USA hires new Marketing Executive
Jacqueline Marinacci brings MAX a decade of AEC experience.
---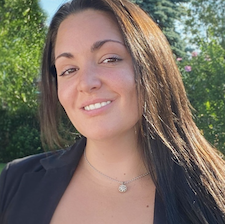 MAX USA Corp. has hired Jacqueline ("Jackie") Marinacci as its new Marketing Executive, who will be focused on generating informative content to drive brand awareness, expand MAX USA Corp.'s social presence and support MAX dealer sales efforts.
Jackie has worked in the Architecture, Engineering and Construction ("AEC") industry for over 10 years, providing cross functional marketing support from shooting progressive job site, and drone videography/photography, web development, graphic/motion design, and overall communication functions.
From working with utility companies and contractors to local PSC's, her level of job site understanding helps to develop insightful case studies, use cases, and project profiles to highlight how businesses are creating safer and more efficient practices in the field, to leverage and drive competitive resolutions.
Prior to onboarding with MAX, Jackie worked with the New York based robotics company ULC Robotics, that works across the US and UK to develop robotic solutions that help utilities, contractors, municipalities and other vertical markets, carry out safer inspections and emergency response with a range of innovative R&D/commercialized efforts.
Jackie currently lives in Northport, NY with her boyfriend Rob, two dogs, and two guinea pigs. When Jackie isn't working at MAX you can find her working on her never-ending project of a Jeep, trying to live the off-road pipedream.
You can reach Jackie at jmarinacci@maxusacorp.com or by cell at 516-306-8428.
MAX USA CORP. is headquartered in Plainview, NY, and is owned by MAX CO., LTD., which is headquartered in Tokyo, Japan. MAX has been recognized as a market leader in the quality manufacturing of pneumatic nailing tools for over 70 years. MAX has several divisions employing more than 2,000 people worldwide including over 200 R&D engineers. Learn more at www.maxusacorp.com.