Posted August 26, 2020
Milwaukee Tool Launches PIPELINE Virtual New Product Symposium
Live online symposium lets you be there even if you can't.
---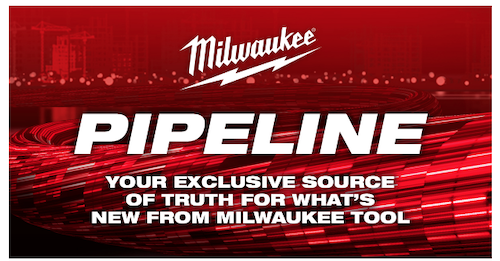 Milwaukee's M12, M18 and MX FUEL cordless power tool and equipment systems are growing! Learn about the newest products in our rapidly growing collection as well as the accessories that pair with them to provide the very best performance and durability.
Highlights of Episode 1 include:
Hear from President, Steve Richman
Learn more about Cordless Systems
Get an Update on MX FUEL
Check out New Products!
The live edition of PIPELINE Episode 2 is set for September 10, 2020 at
5:00 p.m. CDT. Register and tune in!
And mark your calendars for the coming episodes:
Episode 3 - Oct. 15, at 5:00 p.m. CST.
Episode 4 - Nov. 12 at 5:00 p.m. CST.
Learn more at https://www.milwaukeetool.com/Pipeline/2020-Events