Posted March 9, 2021
Radians salutes Women in Construction Week with giveaway
Win women's PPE gift packages during Women in Construction Week.
---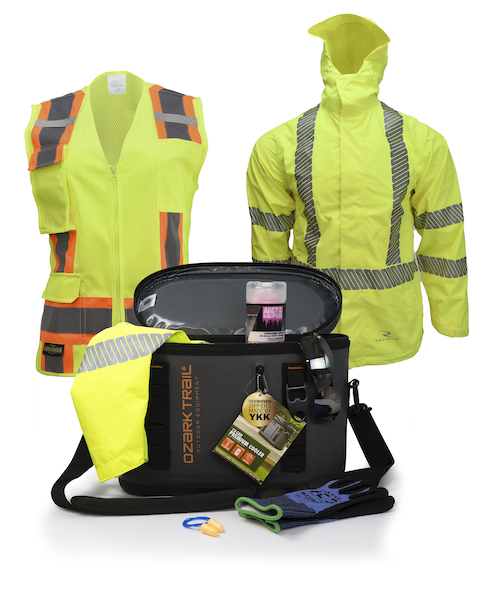 More women are entering the construction, roadway and manufacturing sectors of the workforce, many of whom are discovering limited access to properly fitted PPE designed with the female in mind.
Radians, a top-tier manufacturer of quality safety products, has recently expanded its women's PPE line to address this gap in the marketplace.
To salute Women in Construction Week March 7-13th, Radians is giving away three women's PPE gift packages. Each gift package contains an Ozark Trail® cooler filled with women's PPE, including Radians' new surveyor vest, rain jacket, Arctic Radwear cooling towel, safety glasses, gloves, and hearing protection. To enter the giveaway, visit https://www.radians.com/2021-wic-week-giveaway.
Radians Introduces High-Visibility Surveyor Safety Vests for Women
"Most of us are aware that outfitting women in men's oversized PPE increases safety risks because ill-fitting clothing can catch on equipment, which often contributes to slips, trips, and falls," said Nicole Novick, high-visibility product manager for Radians.
"Designed by women for women, the new SV6W-2 and the SV63W were thoughtfully constructed to fit women better, which will help mitigate some of the risks that occur from wearing men's workwear," said Novick. "Both surveyor vests are Type R with two-tone trim and a solid front and a mesh back. The SV6W-2 is a Class 2 vest, whereas the SV63W is a Class 3."
Women will appreciate the narrower shoulders, higher zipper closure for security, and a contoured waist. Plus, smaller arm holes and allowances at the hips, including side slits, make these vests comfortable and safe for women. The reflective tape and contrast trim combination will make female construction workers more noticeable in low light and broad daylight. To hold essentials, both vests feature lots of pockets, including a large Cell/Radio pocket with clear ID badge holder. The SV63W includes a large zippered back plan/tablet pocket that is accessible from both left and right.
"Radians is excited about expanding our women's PPE line, which will make it easier for safety pros to consider the unique needs of women in construction, manufacturing, and transportation," said Novick. "PPE that fits accelerates compliance and contributes to happy and productive workers."
In addition to high-visibility vests, Radians has other products for women, including rain gear, vision protection, hearing protection, hand protection, and DEWALT® heated jackets.
For more information about Radians comprehensive lines of PPE, visit www.radians.com or send an email to sales@radians.com.