Posted March 15, 2021
Gemtex Abrasives issues 2021 catalog
New 64-page download catalog covers the entire Gemtex line of abrasive, surface prep and finishing products.
---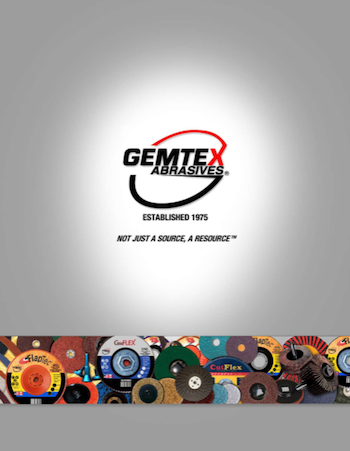 Founded in 1975, Gemtex Abrasives is the original and only manufacturer of Trim-Kut discs. Long before it became popular, Gemtex focused on designing and producing economical and environmentally repsonsible products that reduce materials wates and utilize recycling.
Gemtex produces and markets a full range of coated and bonded abrasives for grinding, sanding, surface conditioning and finishing. Its products are sold worldwide to the industrial, automotive, aerospace, marine, metal fabrication, natural gas production, petrochemical and retail markets under the Gemtex and private-label brands made in its manufacturing facility and corporate headquarters in Toronto, Ontatio, Canada.
Gemtex application specialists can answer any product or applications questions you may have.
The new 64-page PDF catalog covers the entire Gemtex offering of
Flap discs
Resin fiber discs
Mini resin fiber discs
Cloth discs
Mini Grind'R discs
Surface Conditioning Products
Jumbo rolls
Nonwoven abrasives
Strip Away discs
Trim-Kut discs
Grinding and cutoff wheels
Belts
CZ45 grinding and finishing discs
Flap wheels
Sandscreen
Accessories
The catalog also covers private-label offerings, the Gemtex Advantage/unique products, a numeric product index and an applications chart.
Click here to download the catalog.
Learn more at www.gemtexabrasives.com or email info@gemtexabrasives.com.