Posted March 22, 2021
Walter releases steel finishing white paper
New paper covers three easy steps to achieve desired finishes.
---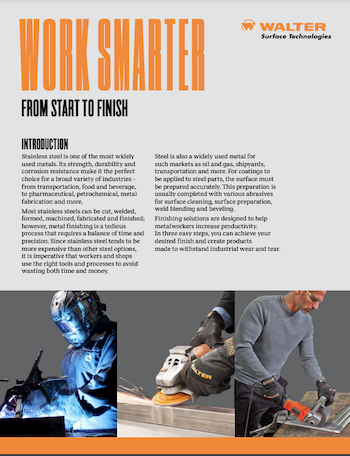 Stainless steel is one of the most widely used metals. Its strength, durability and corrosion resistance make it the perfect choice for a broad variety of industries – from transportation, food and beverage, to pharmaceutical, petrochemical, metal fabrication and more.
Most stainless steels can be cut, welded, formed, machined, fabricated and finished; however, metal finishing is a tedious process that requires a balance of time and precision. Since stainless steel tends to be more expensive than other steel options, it is imperative that workers and shops use the right tools and processes to avoid wasting both time and money.
Walter Surface Technologies introduces a free white paper to help users choose the proper products and achieve the best results in their finishing applications.
Click here to download the white paper.