Posted July 14, 2021
Pony Jorgensen Debuts New User-Focused Updates to Website
Upgrades include product ratings and reviews.
---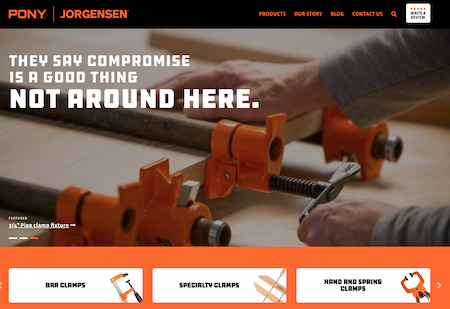 Pony Jorgensen, maker of the Jorgensen handscrew, Pony pipe clamps and other iconic woodworking clamps, has introduced new user-focused features to its website. These upgrades include easier access to purchase and real-life customer reviews to help shop the brand's lineup of products.
In addition to offering comprehensive overviews for each tool, the website now incorporates a ratings and reviews section for customers to share their thoughts and rate products based on a tool's quality, value, ease of use, effectiveness and durability.
The website also includes a direct link to purchase, displaying a variety of retail partners and options for customers and professional end users supported by lifestyle imagery showcasing products in-use.
"We believe so strongly in the quality of our clamps that we wanted to highlight our customers' experiences and stories for each one of our tools," said Bill Sokol, Vice President of Marketing, Arrow Fastener. "Not only do we work to meet strict industry guidelines for our products, but we also aim to surpass the high expectations of our loyal customers. These strategic interface updates allow our website to serve as a tool for those customers so that they can provide honest product reviews, gain more knowledge on use and purchase exactly what they're looking for."
Pony Jorgensen is operated by Arrow Fastener, the leader in manual, electric and cordless fastening tools, and the manufacturer of the world's best-selling staple gun, the T50®. This latest update to the Pony Jorgensen website is part of a series of consumer-focused initiatives to showcase the quality and use of the company's wide variety of nontraditional specialty clamps, including handscrew clamps, hold-down clamps, cabinet claws, press screws, gear clamps and edging clamps.
About Pony Jorgensen
Founded in 1903 by Adele Holman, the Pony Jorgensen brands were originally owned and operated by the Adjustable Clamp Company based out of Chicago. Through the years, the brands' products – most notably the iconic handscrew – became synonymous with quality and reliability in the woodworking industry. The Adjustable Clamp Company closed its doors in 2016, and the Pony Jorgensen brands were bought by Hangzhou GreatStar Industrial Co. in 2018. GreatStar now owns the Pony Jorgensen brand, and Arrow Fastener manages Pony Jorgensen's operations.
For more information, visit www.ponyjorgensen.com.
About Arrow Fastener
Arrow Fastener Company, LLC, is a US-based manufacturer of staple guns, glue guns, and rivet tools located in Saddle Brook, NJ. Since 1929, Arrow has been a leader in fastening solutions in the big box home improvement and traditional hardware retail channels. For more than five decades, the T50® staple gun has been the industry standard, as the world's best-selling staple gun.
Today, Arrow Fastener is a trusted supplier of reliable, innovative, and affordable products for the building trade professional and do-it-yourselfer. In July 2017, Arrow was acquired by Hangzhou GreatStar Industrial Company, a $2.2B Chinese manufacturer of forklifts, hand and power tools, robotics systems, and laser measuring devices. Arrow now serves as GreatStar's US headquarters for sales, marketing, and distribution of GreatStar's branded tool product portfolio.
For more information, visit www.arrowfastener.com.