Posted July 7, 2021
RIDGID Experience: The trade trip of a lifetime returns Sept. 22-24
A part of Emerson's professional tools portfolio, RIDGID has two spots exclusively for apprentices.
---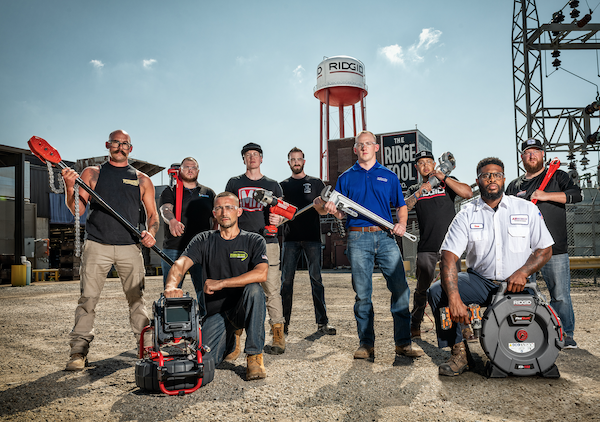 RIDGID®, a part of Emerson's professional tools portfolio, is excited to announce the return of RIDGID Experience, Sept. 22-24, at RIDGID headquarters in Elyria, Ohio. Four grand prize winners, including apprentices and professionals, will be selected the week of July 12 from last year's U.S. entrants after the 2020 trip was canceled due to the pandemic and from those who entered this year by July 2.
"We're excited to have RIDGID Experience make a comeback. For years, we've boosted our outreach programs to help attract the next generation of professionals to the skilled trades. This year's contest reflects our commitment to celebrating people in the industry at all stages of their career," said Becky Brotherton, senior marketing communications manager, RIDGID for Emerson. "The trip is always a highlight of the year for our team and a trip that past winners have called the trade trip of a lifetime. It's become a truly career- defining experience for winners and we can't wait to host this year's group."
Past contest winner, Bobby Scirica, a plumbing – service technician from Arizona described the trip this way, "I've been using these tools for years and being here and seeing the machines and people who make the tools, it's emotional." And another past winner, Rob Broccolo, owner of Professional Drain Services of Southern New England, said, "RIDGID is a big name in the industry and it felt incredible to be selected for a once in a lifetime opportunity. By far the highlight of my career and time in the trades."
RIDGID Experience winners will receive:
An all-expenses-paid trip to RIDGID world headquarters
A VIP RIDGID headquarters tour
A custom RIDGID pipe wrench
Hero photoshoot, celebrating winners' dedication to the skilled trades
Share insights and get one-on-one time with engineering, marketing, research and product development managers
Suite seats to see the Cleveland Indians take on the Chicago White Sox
Fishing excursion on Lake Erie
And much more
Follow this year's winners RIDGID Experience by following RIDGID on Instagram: @ridgidtools.
Emerson's professional tools business, which includes RIDGID as well as the Greenlee® and Klauke® brands, provides the industry's broadest portfolio of advanced, reliable tools and technologies for the mechanical, electrical and plumbing trades globally. Visit emerson.com/professionaltools for more information.
About Emerson
Emerson (NYSE: EMR), headquartered in St. Louis, Missouri (USA), is a global technology and engineering company providing innovative solutions for customers in industrial, commercial, and residential markets. Our Emerson Automation Solutions business helps process, hybrid, and discrete manufacturers maximize production, protect personnel and the environment while optimizing their energy and operating costs. Our Emerson Commercial and Residential Solutions business helps ensure human comfort and health, protect food quality and safety, advance energy efficiency, and create sustainable infrastructure. For more information visit Emerson.com.