Posted September 29, 2021
Gemtex Releases TrimKut Abrasive Disc Video
New video showcases the features and benefits of the TrimKut abrasive disc lineup.
---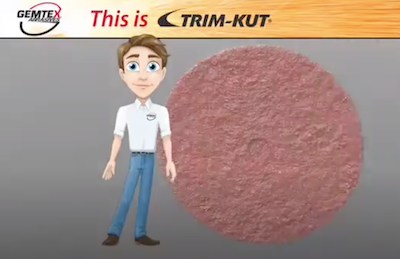 Gemtex Abrasives, the exclusive manufacturer of TrimKut abrasive discs for grinding and finishing a wide variety of materials, says its TrimKut line is faster and cooler than any other discs on the market today.
Gemtex has released a new animated video explaining the unique properties and capabilities of the TrimKut line. Click here to view the video.
The patented process of fusing premium aluminum oxide, zirconia, ceramic or silicon carbide grain to a durable polymer backing results in a highly versatile grinding tool that requires no backing pad and is readily trimmable to either renew the cutting surface or reduce the disc diameter. When the outside edge is loaded or worn to th epoint it is not grinding effectively, simply trim it off.
TrimKut discs are available in 3-, 4 1/2- or 5-inch diameters for use on drills, die grinders and right angle grinders.