Posted December 2, 2021
MAX USA Corp. Celebrates 80 Years with Major Offer
This month only, the MAX SuperRoofer CN445R3 is on sale.
---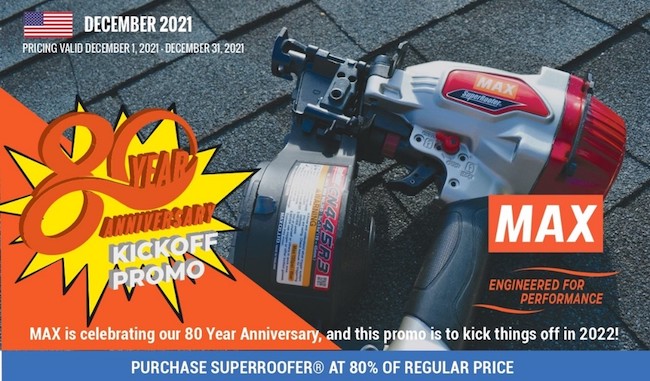 MAX USA is coming up on our 80-year anniversary in 2022, and to show our appreciation we are kicking off the new year with a promotion. One of our most popular tools will be selling at 80% of regular price!
Our SuperRoofer® CN445R3 is the world's first roofing nailer. It is equipped with a full round head driver blade allows operators to drive nails in flush for dependable holding power. To ensure the durability of the CN445R3, the tar resistant nose is designed to block tar build-up, up to 8x longer than conventional tools.
The patented self-cleaning end cap filter traps foreign substances before they can enter the tool and safely ejects them when the air hose is disconnected.
MAX combines durability and performance in the safety equipped SuperRoofer® CN445R3. We are committed to manufacturing reliable tools that have been designed to deliver enhanced performance while ensuring the safety of the user.
You can visit your local dealer for pricing and availability. Find your closet dealer through our website: https://www.maxusacorp.com/wheretobuy/where_to_buy_index.php?category=nl
Please contact us for more information on the program and if you have any questions regarding the #MAXSuperInfluencer Program
MAX USA CORP. is headquartered in Plainview, NY, and is owned by MAX CO., LTD. which is headquartered in Tokyo, Japan. MAX has been recognized as a market leader in the quality manufacturing of tools for nearly 80 years. MAX has several divisions employing more than 2,000 people worldwide, including 200 R&D engineers. MAX USA CORP is hiring, please check our website https://www.maxusacorp.com/careers for the most up to date openings.