Posted December 7, 2021
ACI/ASCC Publishes Contractor's Guide to Quality Concrete Construction, 4th Edition
New manual runs 262 pages and includes color photos and illustrations.
---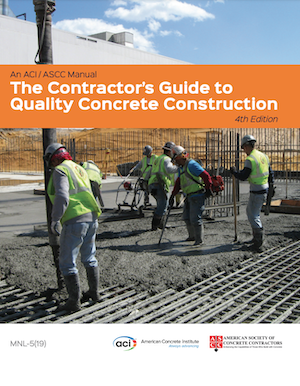 Published jointly by the American Concrete Institute (ACI) and the American Society of Concrete Contractors (ASCC), this new volume has been reviewed in accordance with the Educational Committee Manual document review procedures of the ACI Educational Activities Committee.
ACI and ASCC reports are intended for guidance in planning, designing, executing, and inspecting construction. This document is intended for the use of individuals who are competent to evaluate the significance and limitations of its content and recommendations and who will accept responsibility for the application of the material it contains.
Now 262 pages – over 100 pages longer than the previous edition – the guide includes full-color photos and illustrations, a new, easier-to-read layout, and substantial content updates. Also included in the fourth edition are 43 Position Statements from ASCC, details on ACI Certification programs, and an appendix introducing several legal issues of interest to concrete contractors. A summary, review questions, and additional recommended reading list accompany each of the 12 chapters.
Click here to learn more and to purchase.