Posted December 15, 2021
Southwire Acquires OBI Partners, Inc.
Addition to enhance digital services, provide utility solutions and accelerate innovation.
---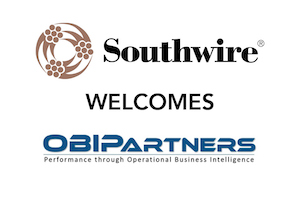 Supporting the company's growth strategy and strengthening its commitment to remain generationally sustainable, Southwire is pleased to announce the acquisition of OBI Partners, Inc. of Alpharetta, Georgia – a digital solutions provider focused on electric utilities.
OBI is widely recognized for its portfolio of software-as-a-service (SaaS) and unique suite of advanced analytics and modules designed to extract, aggregate and optimize electrical grid data into intelligent information for utility operators and managers.
"The marketplace is demanding intelligent solutions to their electrical distribution needs, and through the acquisition of OBI, Southwire will do just that," said Tom Courtney, vice president of Services. "We are very excited about the suite of solutions provided by OBI and the added value we will bring to our customers."
OBI will serve as a foundational element for the development of digital services beyond utility at Southwire.
"We are extremely excited to welcome OBI Partners to the Southwire family. OBI's skills, tools, and expertise, coupled with Southwire's full suite of wire and cable solutions, will provide the critical operational intelligence and solutions needed to support the growing need for grid reliability and resilience," said Norman Adkins, executive vice president and chief commercial officer of Wire and Cable. "OBI's unique service offering will further expand Southwire's role as a key resource to our utility partners."
For more information on OBI Partners, Inc., visit obipartners.com.
A leader in technology and innovation, Southwire Company, LLC is one of North America's largest wire and cable producers?and an emerging influence in the industrial electrical space. Southwire and its subsidiaries manufacture building wire and cable,?utility products,?metal-clad cable, portable and electronic cord products, OEM wire products and engineered products. In addition, Southwire supplies assembled products, contractor equipment and hand tools. For more on Southwire's products, its community involvement?and its vision of sustainability, visit?www.southwire.com.