Posted January 12, 2022
Simpson Strong-Tie Donates $25,000 to Aid Recovery Efforts in the Philippines After Super Typhoon Rai
Nearly 7 million people were affected across the region.
---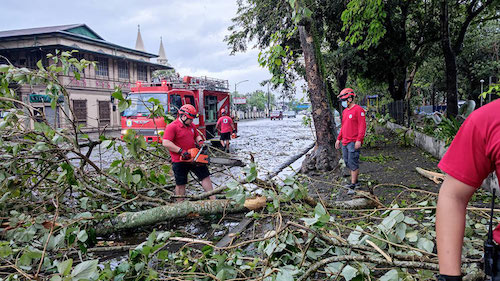 On December 20, 2021, Super Typhoon Rai (known locally in the Philippines as Odette) became one of the strongest storms on record to hit the Philippine Islands.
As of the first week of January 2022, nearly 7 million people were affected across the region. More than 400 deaths and 1,000 injuries have been reported. The UN's Office for the Coordination of Humanitarian Affairs has also estimated that 830,000 homes have been critically damaged.
The American Red Cross continues to coordinate with the Philippine Red Cross to determine the full scope of materials and assistance needed, including deploying trained specialists, mobilizing supplies, and providing financial support. Relief items such as blankets, tarpaulins, first aid kits and water containers have been provided to families in several badly hit areas.
To help with these efforts, Simpson Strong-Tie has donated $25,000 to the Red Cross for relief and recovery from Super Typhoon Rai.
To make a contribution and aid in disaster recovery efforts, visit redcross.org or send a donation to your local Red Cross chapter.
About Simpson Strong-Tie Company Inc.
Simpson Strong-Tie is the world leader in structural solutions — products and technology that help people design and build safer, stronger homes, buildings, and communities. As a pioneer in the building industry, we have an unmatched passion for problem solving through skillful engineering and thoughtful innovation. Our structural systems research and rigorous testing enable us to design code-listed, value-engineered solutions for a multitude of applications in wood, steel, and concrete structures.
Our dedication to pursuing ever-better construction products and technology and to surrounding our customers with exceptional service and support has been core to our mission since 1956. For more information, visit strongtie.com.
photo credit: American Red Cross