Posted February 28, 2022
Exclusive: The Dynamic Anchoring Duo
How to select equipment for maximum safety and efficiency in utility anchoring applications.
---
By Joe Haynes, Little Beaver president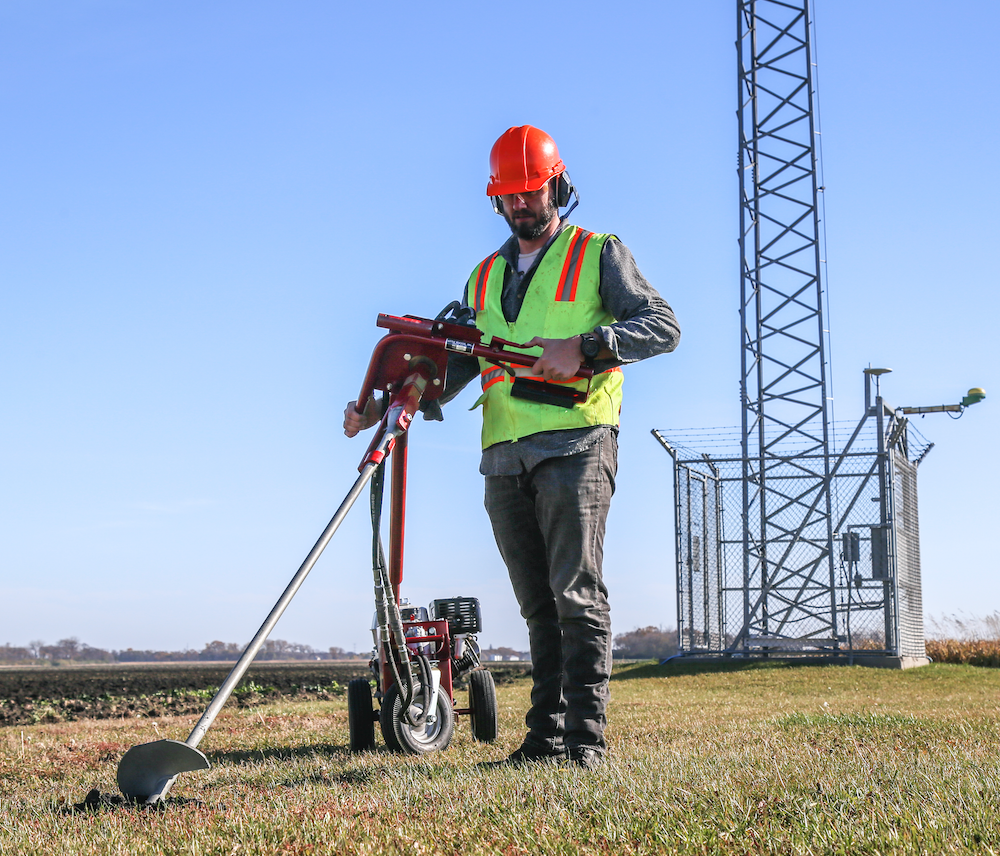 Using an anchoring adapter on a hydraulic earth drill is a solution that can increase productivity and reduce injuries for anchoring crews.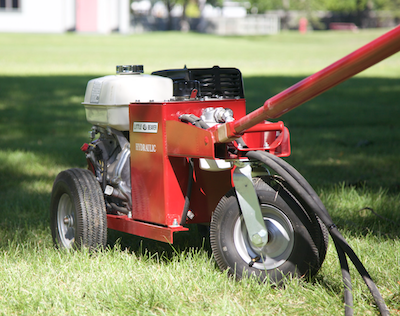 When looking for a hydraulic drill, it's important that it comes with a torque tube to absorb shock. This protects the operator from injuries while installing anchors.
Utility anchoring crews have a constant drive to do more in the safest possible way, which is easier said than done. To accomplish this goal, anchoring crews must look beyond the standard way of doing things to see what can be changed and improved. With the advancements in drilling technology, it's possible now more than ever to find an anchoring tool that maximizes productivity while also being safer for the anchoring crew.
Safety First
Although anchoring crews don't work with high voltage wires, potential for injury always exists with manual labor. That's why it's important to look at what will be safest for the anchoring crew before considering different options for efficiency.
Utility anchoring tools have come a long way since their start. For example, manually installing drive rods was originally the go-to option for anchoring crews. Although this can get the job done, the physically toll of manually hammering the rods into place can increase the risk of injury and hinder productivity due to worker fatigue. Drive rods are still used in some situations, but as technology has continued to advance, hand-held drills have taken the spotlight. Hand-held drills have been around for a while, but different advancements have introduced safety features that can help differentiate a good drill from a bad one.
Some hand-held drills are known as "anchor crankers" and have a chainsaw-like engine with a high-speed rotary that includes large handles for two crew members to operate. These anchoring tools are much more efficient than drive rods because of their increased speed and power to drill into the ground.
However, with high revolutions per minute (rpm) and torque, anchor crankers come with their share of risks. If one operator loses their grip, the other is usually unable to maintain control – especially if the anchor hits an underground object. If both operators let go, the machine's torque instantly switches from driving the machine in the ground to aggressively spinning the handles above the ground. These free-spinning metal handles have been known to strike operators, resulting in injuries.
With methods like this, it's clear that a different anchoring solution could be beneficial for long-term success. After all, a healthy crew is a productive crew, and both time and money can be saved by preventing injuries. Further advancements have provided options that improve safety while maintaining efficiency.
Simple Safety Solutions
An investment in a hydraulic earth drill with a high-torque anchor handle and utility anchor adapter is all that's needed to safely install anchors. Hydraulic earth drills offer quieter operation and easier maneuvering compared to their gas-powered anchor cranker counterparts. Anchoring with a hydraulic drill reduces strain on the operator's arms and hands by minimizing vibration. In turn, this reduces the potential for worker's comp claims and project delays due to injuries or work time limits.
In addition to limiting the potential for injury from vibration, hydraulic drills fitted with a torque tube that connect the handle of the drill to the hydraulic power source provide added protection when encountering obstacles. It works by transferring kickback to the power unit if the auger strikes an object or requires additional torque to power through tough soil. By doing this, the vibration bypasses the operator and nearly eliminates the risk of strain or serious injury.
It's worth noting that torque tubes are adjustable in length so operators can adapt the placement of the power unit. This allows operators to accommodate the ideal anchor location and prevent being limited to just one area.
Productivity at its Finest
Once safety has been addressed, it's time to turn to productivity for maximum ROI. Using an anchoring adapter on a hydraulic drill brings out the best of both worlds with several efficiency features in addition to the safety this combination already provides.
Unlike anchor crankers and hand setting, which take up to 30 minutes to set one anchor and require a significant amount of energy and physical labor, a hydraulic drill fitted with an anchoring adapter installs a utility anchor in under two minutes. In less than an hour, a crew can set the anchors for an entire pole.
Some hydraulic drills are also designed with true one-man operation to maximize productivity. Instead of having two people installing the anchor, one of those crew members can take on a different role to complete the project faster or operate a second drill. Removing the anchor proves to be just as fast and easy, because the hydraulic drill simply reverses the anchor out of the hole. This feature is beneficial when removing the anchor, but also when encountering any kind of obstacle while setting the anchor.
For even more efficiency while anchoring, make sure to match the anchor to the soil conditions. For example, soil nails can be used in soft soil that's prone to landslides while tieback anchors are a good choice for projects with limited access, such as retaining walls. To learn more about which anchor will maximize productivity based on the jobsite, contractors should reach out to a trusted manufacturer.
The Dynamic Duo
To meet the needs of anchoring crews, manufacturers have designed options that maximize efficiency while keeping safety at top of mind. Contractors can feel confident investing in solutions like hydraulic drills with anchor adapters as an opportunity to improve ROI. Beyond increasing operator safety and improving efficiency, this solution offers contractors the ability to expand their business into areas like landscaping or fencing, without breaking the bank. CS
About Little Beaver Inc.
Little Beaver has been proudly manufacturing quality, safe and productive drilling equipment for three generations. With a full line of easy-to-operate equipment, along with a complete offering of accessories, including augers, extensions, points and blades, Little Beaver effectively serves the needs of end-users from professional contractors to rental centers. For more information: Little Beaver, 2009 South Houston, Livingston, TX 77351; 800-227-7515; fax 936-327-4025; sales@littlebeaver.com; www.littlebeaver.com.