Posted November 9, 2022
IronCraft Announces New Director of Digital and Dealer Development
Michael Kucharski joins IronCraft from Fecon.
---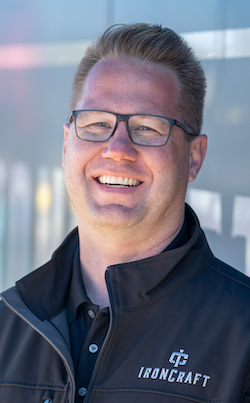 IronCraft, LLC ("IronCraft"), formerly branded Titan Implement, has named Michael Kucharski as its new Director of Digital and Dealer Development. He joins IronCraft after serving in various leadership roles within the heavy equipment industry, most recently as VP of Dealer Development at Fecon, LLC.
Kucharski has extensive experience in dealer development, having spent 16 years with Caterpillar or its dealers, including working on the post purchase experience for Caterpillar. He holds a BS in Business Administration from Southern Illinois University.
In addition to his responsibilities for establishing, training and growing the dealer network in-person and online, Kucharski is also responsible for all of Iron Crafts Digital Solutions and Marketing activities including internal and external communications, trade shows, advertising, e-commerce, website and digital solutions.
IronCraft CEO Pat Kozlowski stated, "We're excited to have Mike lead Marketing and Dealer Development. His past successes in building brand identity across all media will be tremendously beneficial as we establish our digital first strategy to provide dealers and customers with real-time visibility to pricing, availability, lead-time, customization, parts, operating manuals, and more. For those customers that prefer in-person shopping or service experiences, Mike has clearly demonstrated his ability to establish and strengthen our national dealer network."
"I'm delighted to join IronCraft and look forward leading our Digital and Dealer Development initiatives," said Kucharski. "We are ready to partner with our dealers on several innovative ideas that enable great people with quality process to harness the many benefits of digital technology. This is an exciting time at IronCraft and we're eager to share that with our dealers and their customers."
About IronCraft, LLC
IronCraft, LLC, founded in 2014 under the Titan Implement brand by the Turner family, is a leading manufacturer of agricultural implements and skid steer attachments catering to a variety of applications such as agriculture, landscaping, light construction, and more. Based in east Tennessee, IronCraft offers an extensive range of rotary cutters, rotary tillers, box blade scrapers, grader blades, landscape rakes, disc harrows, and skid steer attachments. For more information, please visit www.ironcraftco.com.