Posted February 15, 2023
Simpson Strong-Tie Receives Building Talent Foundation Industry Champion Award
BTF addresses skilled trades labor shortages by improving talent supply, training and retention.
---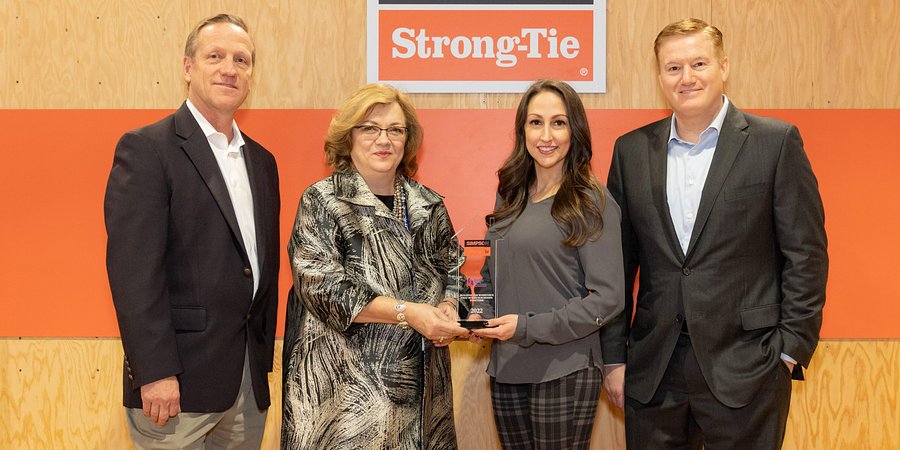 Simpson Strong-Tie, the leader in engineered structural connectors and building solutions, has been recognized by the Building Talent Foundation (BTF) as a 2022 Industry Champion at the 2023 International Builders' Show (IBS) in Las Vegas, NV (January 31 – February 2, 2023) for its commitment, contribution and collaboration in building a sustainable workforce in residential construction.
BTF was founded in 2019 by 20 of the leading residential construction companies in the US to address the severe and persistent labor shortage across skilled trades by improving talent supply, training and retention. BTF collaborates with all members of the residential construction sector to meet measurable outcomes for the industry and for communities.
"We are committed to supporting the next generation of skilled trades talent. It is a commitment to both our customers and our industry, and we are honored to be recognized as an Industry Champion alongside great organizations who share a similar goal," said Simpson Strong-Tie CEO Mike Olosky.
About Simpson Strong-Tie Company Inc.
Simpson Strong-Tie is the world leader in structural solutions — products and technology that help people design and build safer, stronger homes, buildings, and communities. As a pioneer in the building industry, we have an unmatched passion for problem solving through skillful engineering and thoughtful innovation. Our structural systems research and rigorous testing enable us to design code-listed, value-engineered solutions for a multitude of applications in wood, steel, and concrete structures. Our dedication to pursuing ever-better construction products and technology and to surrounding our customers with exceptional service and support has been core to our mission since 1956.
For more information, visit strongtie.com