Posted February 28, 2023
Werner Announces Seventh Consecutive Year of Sponsoring National Ladder Safety Month and Partnership with American Ladder Institute
Annual campaign brings national awareness to the importance of ladder safety on the worksite.
---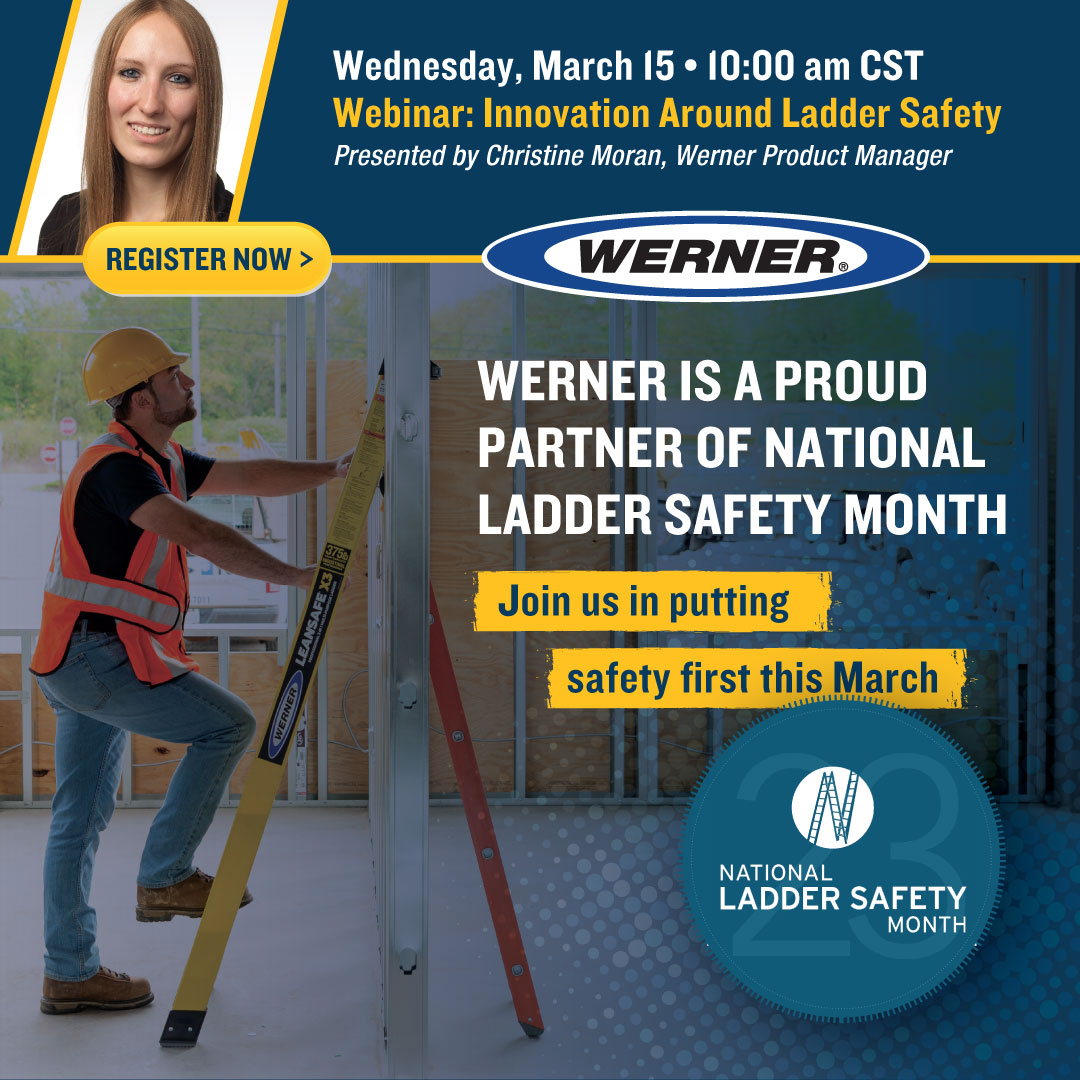 Werner, a world leader in ladders and the manufacturer of climbing products and fall protection equipment, today announced the company will partner with the American Ladder Institute (ALI) for Ladder Safety Month, the only program dedicated exclusively to promoting ladder safety at home and work.
The annual event takes place every March to raise awareness of ladder safety and decrease injuries and fatalities caused by ladder misuse.
Ladder related injuries are too frequent and often can be prevented through ongoing training and consistent safety precautions for those working at height. In 2020, there were 161[1] fatal work injuries involving ladders. With consistent training and safety protocols in place, these work and home injuries and fatalities can be decreased.
"We feel strongly about the importance of consistent hands-on ladder safety training for end-users", said Christine Moran, Product Manager for WernerCo. "This year we are proud to sponsor and host a webinar designed to help professionals and homeowners stay safe. We know that safety can often be sacrificed because of time constraints and jobsite pressures, but ladder injuries are preventable if you think before you climb."
Safety Themed Webinar
In conjunction with the American Ladder Institute, Werner will host a 60-minute webinar on Wednesday, March 15th focused on "Innovation Around Ladder Safety," presented by Christine Moran. Interested participants can register here.
Ladder Safety Month activities will also focus on weekly safety themes throughout the month of March including:
Week One: Choosing Your Ladder
Week Two: Safety Before the First Step (Inspection and Set Up)
Week Three: Safety While Climbing
Week Four: Safety at the Top
To participate in any of these weekly events, users can find more information here.
Safety Training Resources and Certifications
Creating an environment of safety can help prevent injuries on the job for all professionals and their co-workers. By encouraging proactive behavior, everyone on the worksite can make a conscious effort to create changes that lead to safer outcomes.
Throughout the year Werner is leading ladder safety awareness through a variety of in-person and online training courses and resources. From easily scheduling onsite safety trainings to accessing a suite of free Ladder Safety Courses that offer certification, participants can learn in multiple ways.
In addition, several valuable resources are available free for download, including the comprehensive Climbing Pro Guidebook and Ladder Inspection Form to ensure there's no damaged or missing parts before each use. Even if the user has taken all precautions to select the right ladder for the job, safety can be compromised if the ladder isn't properly inspected before climbing. Werner invites both professionals and homeowners to participate in Ladder Safety Month by signing up for a free Safety Training or Product demo, taking a Free Online Course or sharing ladder safety tips through social media using #LadderSafetyMonth.
For more information about Ladder Safety month, please visit laddersafetymonth.com.