Posted March 21, 2023
MAX USA Corp. Announces Winners of the 2022 Second Half Awards for Outstanding Achievements
John Dominice and Lida Gasper are named to company's Hall of Fame.
---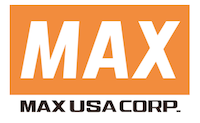 MAX USA Corp., a leading manufacturer of industrial power tools, is pleased to announce the recipients of the 2022 Second Half Awards which recognize individuals who have made extraordinary contributions to company's growth and demonstrated continual improvement in their specialty.
Customer Service Award 4th qtr. 2022: Anthony Abraham
Anthony has done a great job at customer support for parts. He enters a lot of parts orders with accuracy and communicates well with customers regarding their questions and requests. He also helped West Coast customers after hours on Eastern time.
Best Staff employee: Michelle Menjivar
Michelle took care of the increased volume of account receivable works with excellent accuracy and efficiency. Her quality of work helped the account receivable work to always be up to date and current.
Japan Staff member to Support Sales: Terry Kobayashi
Terry did a great job helping and supporting the sales team for rebar tying products. RBU contest had very successful results to sell many tools this year with Terry's good follow up and dedicated work to communicate with customers.
Best Japanese staff support: Frank Hernandez
Frank did a great job to help R&D projects by setting up a lot of jobsite visits as per Japanese staff's requests. He spent considerable time and efforts to help achieve the goal of research projects.
Hall of Fame: Lida Gasper
Lida has made a tremendous amount of contribution for the last 34 years. She took care of all accounting work and all employees as the office manager. She made the fundamentals of MAX USA and continues to do a great job in a very important role for the company.
Hall of Fame: John Dominice
John had continuous success in the sales growth for the last 23 years. His hard work, leadership and continuous passion to grow the business made the current position and presence of the company in the market.
About MAX USA Corp.
MAX USA CORP., a subsidiary of Tokyo-based MAX Co., Ltd., is a worldwide leader in the manufacturing and distribution of professional grade power tools and accessories. For 80 years MAX has utilized its expertise and ingenuity to manufacture and distribute the highest-quality tools that include pneumatic nail guns, staplers, and compressors, the first battery operated and stand-up rebar tying tools, fasteners, and tie wire, including Buy America Certified.
Headquartered in Plainview, NY, MAX USA is part of the vast network of MAX locations that employ more than 2,000 people worldwide, including 200 R&D engineers. For more information, please visits us at www.maxusacorp.com.