Posted April 11, 2023
Petty's Garage and Best Working Wipes Expand Partnership
Pettys Garage.com becomes latest retailer to carry Best Working Wipes.
---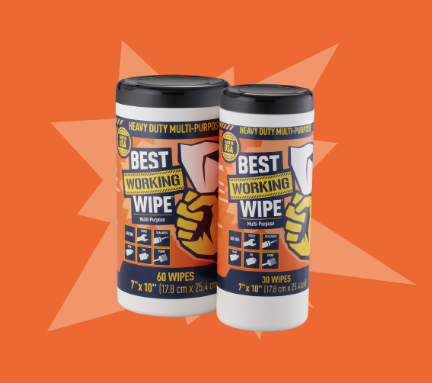 The newest place to find and purchase Orbizorb, LLC products is www.pettysgarage.com. Petty's Garage is now your online home to buy Best Working Wipes, the best working wipe for any project, job, or task. Best Working Wipes products work on a variety of applications including the automotive and garage industry.
Petty's Garage has been using Best Working Wipes for restorations, custom projects, and providing the perfect clean and shine for customer upgrades. The relationship began on the track in a partnership with Thad Moffitt in the ARCA Series and now has become the trusted wipe for the Petty family.
"It's great for Best Working Wipes to partner with Petty's Garage," said Roy Scharrer, Director, Best Working Wipes. "The Petty name is one of the most trusted in the automotive industry and is a perfect application for our wipes. We continue to grow, and this partnership is the next step in our growth. We want to thank Richard Petty and the entire Petty family for expanding our partnership."
Best Working Wipes offers a range of products including dual-sided wipes, multi-purpose wipes, and plant-based wipes. These wipes are your solution for any project and can all be found online now at www.pettysgarage.com. The Petty's welcome Best Working Wipes to its family of products.
"There is no better wipe than Best Working Wipes for Petty's Garage," said "The King" Richard Petty. "We are growing online, and they are growing, too. It's a perfect time to come together to let our customers know more about Best Working Wipes and everything they do to help keep our cars and shops clean. We trust them and you should, too."
Visit www.workingwipes.com and www.pettysgarage.com to learn more.