Posted May 3, 2023
OTR Receives Supplier Excellence Award
Kubota recognizes OTR as a top supplier for outstanding quality, delivery, and cost commitment.
---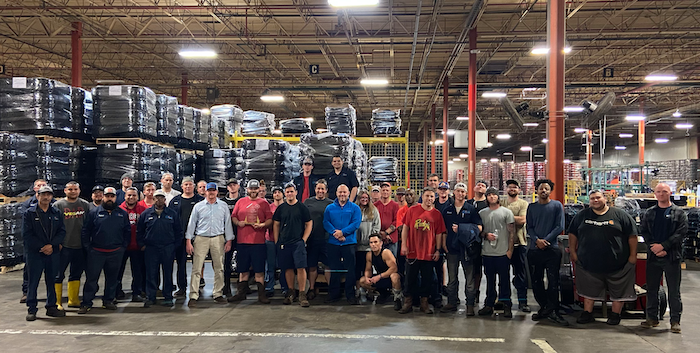 OTR Engineered Solutions was recognized with a Supplier Excellence Award from Kubota Manufacturing of America (KMA) and Kubota Industrial Equipment (KIE) during their annual supplier conference. This yearly award is given to KMA's and KIE's top suppliers for outstanding quality, delivery, and cost commitment.
OTR has been a long-time supplier to KMA and KIE, as well as Kubota Tractor Service (KTC), Kubota Canada Ltd. (KCL), Kubota-Mexico (KMX), and Kubota in Europe and Thailand. Beyond serving a typical supplier role, OTR partners with Kubota facilities, providing not only tire and wheel assemblies, but also value-added services, such as mounting, sequencing, warehousing, and dealer support.
"OTR is committed to our partnership with Kubota Corporation, and we're dedicated to supporting their vision of becoming a 'Global Major Brand,'" said Mike Stoeckel, Global VP of Sales & Marketing. "We're doing this through ongoing investments in people, facilities, technologies, and innovation that will help drive business forward. We're extremely pleased that Kubota has recognized our efforts by presenting us with a Supplier Excellence Award."
OTR Engineered Solutions is a market-leading global enterprise specializing in off-the-road terrain engaging solutions for original equipment manufacturers (OEMs) and aftermarkets. Known for market-leading tire and wheel innovations, OTR also provides value-added services such as warehousing, tire mounting, and sequencing. The firm has long established strategic partnerships with OEMs covering Construction, Lawn & Garden, Powersports, Agriculture, Forestry, Mining, Material Handling, and Specialty Vehicle markets.
OTR's infrastructure comprises 31 facilities and warehouse locations throughout the U.S., Canada, Europe, and Asia, serving customers globally. For more information, visit www.otrwheel.com.