Posted June 21, 2023
KNIPEX Releases Pliers Finder for Professionals App
New app helps users find just the right tool for their application.
---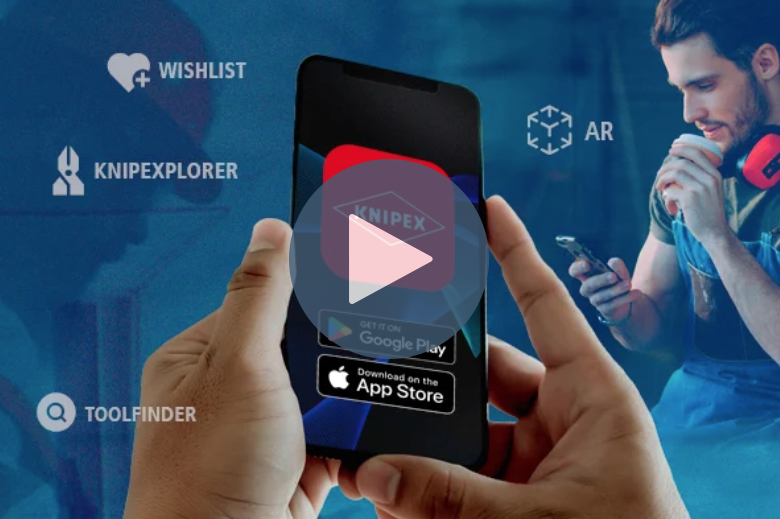 With the launch of the new app "KNIPEX – pliers finder for professionals", the world's leading pliers manufacturer is taking an important next step in digitizing its offering.
The app is now available to discover product information about the Germany-based manufacturer's hand tools or to find the right tool for a specific application – whether on the jobsite or on the road.
The new app's goal is to bring the world of KNIPEX into your pocket. With over 1,300+ tools in the product assortment, the robust Product Search Functionality allows users to quickly find an item simply by searching for the keyword or part number and the relevant tools & information are right at your fingertips.
The KNIPEXplorer product finder is a new resource for pipe cutting and crimping. App users are prompted to enter information such as the application and material used and the KNIPEXplorer will suggest the right tool for the job.
Additional tool categories will be included in the KNIPEXplorer in coming months.
With the Augmented Reality Function (AR) select tools can be placed virtually on your workbench or jobsite. Simply switch on the camera and view the pliers in three dimensions; rotate, zoom, and place them anywhere in your environment.
In an integrated Wishlist, users can save all KNIPEX tools of interest to them in their personal user account.
North American users can also utilize the Where to Buy feature to find both online and in-store retailers carrying the KNIPEX line and navigate directly to their websites to make a purchase. For a firsthand look at the features & functionalities, watch the KNIPEX App preview here.
The app is available in English, German, and French with more languages to come. Additional updates and extensions of the KNIPEX app are already planned and in development as well. The KNIPEX app is now available to download in the App Store or Google Play.
About KNIPEX Tools
KNIPEX Tools LP is the North American sales and marketing organization of KNIPEX‐Werk. KNIPEX‐Werk, Wuppertal, Germany, is a professional quality pliers manufacturer known worldwide. The company concentrates its efforts on being the best pliers manufacturer in terms of quality, innovation and efficiency and its pliers satisfy the highest expectations in terms of performance, ergonomics and service life. knipex-tools.com