Posted July 5, 2023
WALTER Expands Sales Team
Company adds two new RSMs and a Business Development Manager.
---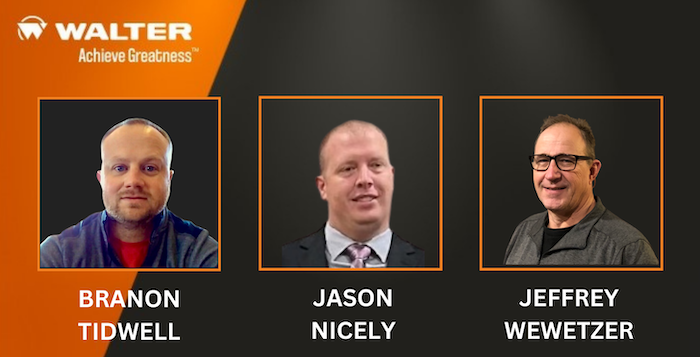 WALTER Surface Technologies, an industry-leading international company offering an ever-growing wide away of productive and safe metalworking solutions, is proud to announce promising changes to their talented team that will further support its mission to contribute to customers' success by helping them work better.
In order to enhance and continue WALTER's commitment to superior customer experience through personalized, customer-centric service, Jason Nicely was appointed Regional Sales Director of the MI, OH, IN, WV, KY, and Western PA regions, Branon Tidwell, Regional Sales Director for TX, OK, AR, and LA, and Jeff Wewetzer, Business Development Manager for South Central USA.
"We are proud of the unmatched talent we have at WALTER and look forward to the exciting things to come. It is thanks to our great team that we are able to help customers achieve greatness," added Mark Wilcox, President, Walter USA.
About Branon Tidwell
Prior to joining WALTER in 2022 as a Business Development Manager, Brannon Tidwell worked for National Standard as District Sales Manager for the Southwest region. He has over 18 years of experience in sales, mainly in the industrial supply, gas, and petroleum industries. He is now the new Regional Sales Director across Texas, Oklahoma, Arkansas, and Louisiana.
About Jason Nicely
Jason Nicely has an extensive career as a sales representative and territory sales manager within the industrial and agricultural supply industries, especially in the Ohio and Michigan regions. He also worked for seven years at a national distributor, both as District Manager and as General Manager. He now has taken over the role of Regional Sales Director of the Michigan, Ohio, Indiana, West Virginia, Kentucky, and Western Pennsylvania regions.
About Jeffrey Wewetzer
Jeffrey Wewetzer has been with WALTER for over three years since joining as a Territory Manager in 2019. With an MBA from Lipscomb University and a Business Human Resources degree from the University of Arkansas, he brings a varied skillset and valuable experience to the team. He is now starting his new role at WALTER as a Business Development Manager for South Central USA.
About WALTER Surface Technologies
WALTER Surface Technologies provides innovative solutions for the global metalworking industry. From high-performance abrasives, power tools, and tooling to industrial, cleaners, degreasers, and lubricants, as well as personal protection equipment, WALTER focuses on helping its customers work better and aims to provide them with the means to achieve greatness. Founded in 1952, the Company is established in 7 countries throughout North America, South America and Europe. International headquarters is in Montreal and U.S. headquarters is located in Windsor, Connecticut.
For more information, please visit www.walter.com.