Posted August 16, 2023
MAX USA Launches 2023 Summer TwinTier Promotion
Promotion runs now until October 31, 2023.
---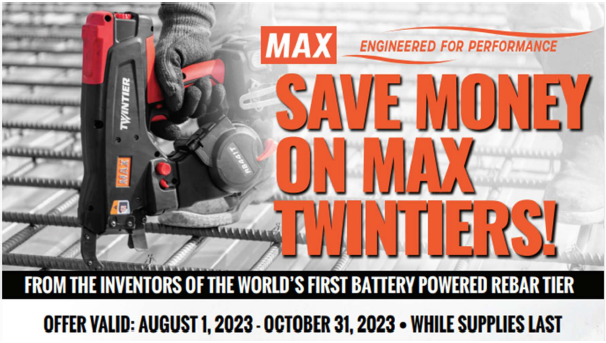 MAX USA Corp is currently running a promotion on its newest generation of battery powered rebar tying tools. MAX is looking to equip all iron workers with the advanced TwinTier® tool line at reduced rates.
The TwinTier® models available in this offer include RB441T, RB611T, and RB401T-E.
This special pricing is applicable for a limited time, from August 1, 2023, until October 31, 2023, at approved dealer locations, subject to product availability.
MAX is committed to manufacturing reliable tools that have been designed to deliver enhanced performance while making sure that users can carry out safe operations.
Learn more at www.maxusacorp.com