Posted February 23, 2021
Seaco offers POP rope displays for spring and summer
Displays feature paracord and derby rope in 50- and 100-foot hanks.
---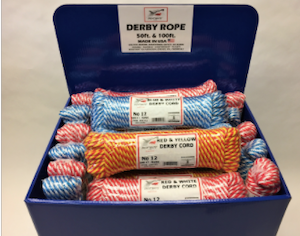 With Spring 2021 right around the corner, Seaco invites distributors to take advantage
of its made in the USA Paracord & Derby rope Pop-Up display packages. Choose one or both, and get your customers to "Grab & Go" with a hank or two. Both packages include one ready to go POP display & banner.
Paracord packages include 216 hanks (50ft.) 24 of each color:
fluorescent yellow, fluorescent orange, fluorescent green,
red, white, black, multi-camo, coyote tan & olive drab for $575.00
Derby Rope packages include 48 hanks total: 24 each of 50-and 100-foot hanks of assorted colors: blue w/ white, red w/ white, red w/ yellow for $475.00
Made in the USA, In Stock, Priced Right & Ready to Ship! Seaco has warehouses in New York, Georgia, Texas, California, Oregon and Canada.
Learn more at www.seacorope.com or call 914-664-5400.