Posted September 7, 2021
Simpson Strong-Tie Webinar Series Provides Solutions and Resources for Retrofitting Concrete and Masonry Buildings
Four-part webinar series begins September 9.
---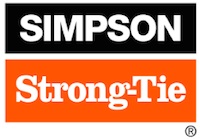 Simpson Strong-Tie, a leader in engineered structural product lines and innovative testing, today announced the launch of the Strong Retrofit webinar series designed to educate engineers, structural designers, architects and building owners about the different solutions available for retrofitting unreinforced masonry (URM), CMU and concrete structures for improved performance against seismic forces.
Earthquakes pose a major threat to buildings that have not been engineered to current codes and standards. Retrofitting these structures is critically important for minimizing risks to life, as well as to help prevent costly property losses and business disruptions that disasters can cause when a structure doesn't conform to the most modern codes.
To help engineers and designers understand various retrofit solutions, Simpson Strong-Tie has developed a series of four Strong Retrofit webinars. Each webinar highlights relevant design considerations from IEBC, HBC or ASCE 41, and features additional topics, new research, takeaways, industry design guides, and other tools to make retrofit projects easier and more effective.
"​​Strong building retrofits protect life, property and businesses from disasters," says Simpson Strong-Tie Development Manager Aniket Borwankar, who will host a webinar on seismic retrofitting of concrete buildings using fiber-reinforced polymer solutions. "With all the different and sometimes unknown site conditions, not to mention variations in codes, standards, products and design guides, retrofits can be challenging. We're excited to offer this series dedicated to helping the building community evaluate and compare easy-to-implement, proven solutions."
The four-webinar series launches on September 9, and attendees are welcome to register for any or all of the programs by clicking the links below:
Thursday, September 9
Thursday, September 16
Thursday, September 30
Thursday, October 7
About Simpson Strong-Tie Company Inc.
Simpson Strong-Tie is the world leader in structural solutions — products and technology that help people design and build safer, stronger homes, buildings, and communities. As a pioneer in the building industry, we have an unmatched passion for problem solving through skillful engineering and thoughtful innovation. Our structural systems research and rigorous testing enable us to design code-listed, value-engineered solutions for a multitude of applications in wood, steel, and concrete structures. Our dedication to pursuing ever-better construction products and technology and to surrounding our customers with exceptional service and support has been core to our mission since 1956. For more information, visit strongtie.com