Cables & Lights: Airstar Sirocco 60W LED Balloon Light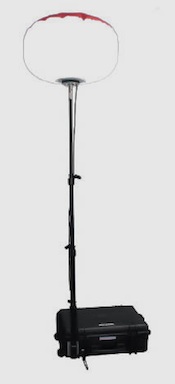 From the company who brought you the number one selling balloon light, the Sirocco 2000W, Airstar America is proud to announce its newest entry in the "glare-free, portable lighting systems" category, the Sirocco 60W LED.
This eco-friendly light offers instant illumination with minimal set-up time, lighting 1000 sq./ft.
The unit is completely self- contained in a durable carrying case for easy transport.
The Sirocco's 48V re-chargeable Lithium battery holds a charge, so it is ready when you are.
At max power it has an 8 hour run time with a 5 hour re-charge time.
This unit was originally designed, by request, for emergency lighting. However whatever your needs…whether rescue, security or special events, the Sirocco 60W LED is "THE" must see product.
For more information visit www.airstarsafety.com or www.airstarsafety.com/s-series/sirocco-s-60w-led