Cables & Lights: Airstar Sirocco and Flex Lighting Balloons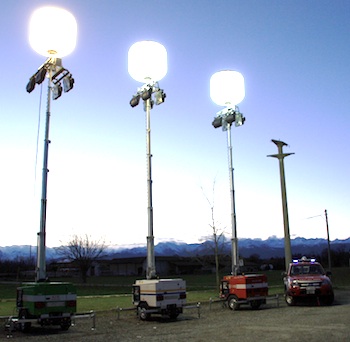 Airstar announces its new generation of lighting balloons for the construction, rescue and safety industries: The Airstar Sirocco 2 and Airstar Flex (shown).
Available in a variety of sizes, and integrating the best lighting technologies, the Sirocco (air inflated) and Flex (semi-rigid frame) are perfect solutions to the many lighting challenges faced in the construction business. The Sirocco range is also proving an invaluable tool for rescue and safety operations.
The Sirocco 2-M 6x100W LED was designed for quick set up and powerful lighting coverage. It features universal voltage (110V to 230V) and contains six LED sources with a nominal power of 100W (5,000 lumens), allowing it to light up an area of over 32,000 square feet.
Its green credentials are second to none, with an average life of 50,000+ hours and a 66% reduction in energy consumption compared with previous generations.
Ideal for localised activities and search & rescue missions, the new Sirocco 2-S 60W LED is a self-contained rechargeable workhorse with an average lifespan of 30,000 hours. It can light areas up to over 4,800 square feet.
Operating on a 48-volt, 60-Watt integrated power supply, the Sirocco 60W LED boasts a typical operating time of eight hours on single charge. It is packaged in a heavy duty transport case with integrated handles and casters for ultimate portability.
These new products complete the existing Sirocco 2 range of products, which include the Sirocco 2-M 1K (HI-T lamp, cold restrike) and the Sirocco 2-M 575 HMI (discharge lamp). Both are high end solutions compatible with generating sets, and offering a colour temperature close to daylight.
Airstar has also completed its Flex range with the new Flex M 1000W HI-T (a pop-up envelope without the need for a fan) and the Flex L 4000W HI-T, a retrofitting kit for lighting towers.
Designed for long term building sites and road works, the Flex range is weather resistant to wind, rain, and extreme temperature changes, while providing 360˚ glare-free lighting for up to five acres.