Albion BeadScope 360 Caulk Gun Nozzle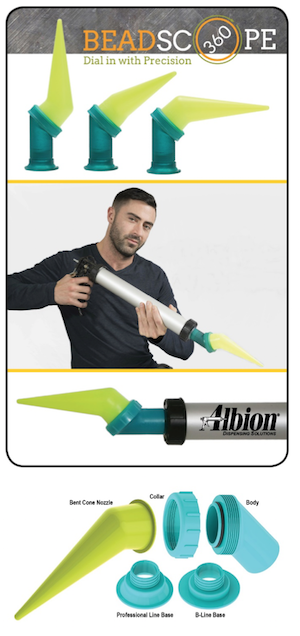 Dial in with precision with Albion's newest caulking accessory, the BeadScope 360 caulk gun nozzle (model 1083-G01).
Adjusts on the fly to match every joint situation.
Rotates and locks into position.
BeadScope 360 provides the ideal caulking angle, leaving a quality joint finish.
Fits both Albion Professional Line (DL-45, DL-59, etc.) and B-Line (B12S20, B26S20, etc.) sausage & bulk guns.
Seeing your bead is critical, BeadScope 360 will help get the job done right. No more awkward positions or poor sight lines. Beadscope nozzle 360 degree swiveling action means no stopping to change nozzles for the right angle. With a quick twist of the collar, lock in the ideal position for those hard to reach areas.
BeadScope 360 is designed for commercial use, the ideal caulking accessory for windows, roofing, auto glass repair, plumbing, masonry and more.
Kit includes one Beadscope body with bases for both Professional Line & B-Line caps, one retaining ring for the bent cone. Along with three (3) 935-3 bent cone nozzles. Plastic nozzle tip is easily trimmed with a utility knife to desired size.
See the Beadscope 360 in Action: https://youtu.be/tEZvSh0UmXA.
Visit the website www.albioneng.com for more information on Albion products.