Albion Nylon Roll-up Tool Wrap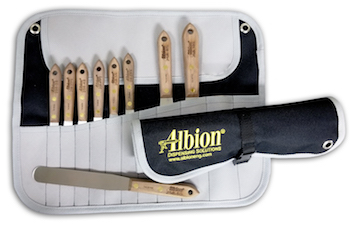 Albion's most popular caulk tooling spatulas are now available in a convenient nylon roll-up tool wrap (p/n 258-G01). Keep your most important spats/slickers etc. organized together in this secure pouch.
The set includes nine Classic hardwood handle caulk spatulas with tip widths ranging from 3/8" to 1 1/2".
All stainless steel blades are ground and polished for optimum flex and minimum drag for perfectly finished joints. No plastic components means easy solvent clean-up.
This set includes the following Classic Spatula models: 258-3TPS, 258-3S, 258-4TPS, 258-4S, 258-5TPS, 258-5S, 258-6S, 258-8S and 258-10S.
The durable tool wrap features 12 pockets, an integral flap cover that holds the tools securely when the wrap is rolled closed. A snap buckle on an adjustable belt holds the package together.
Black with Gray interior and accents with an embroidered Albion logo.
The tool wrap can be purchased separately (p/n 1078-1) to professionally organize your full range of Albion caulking spatulas: Classics; Streamlines, CATs and the Mini Caulk Joint tools.