Applegate Cotton Armor Insulation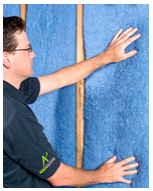 By combining high thermal resistance and acoustical performance in one product, Mr. Insulate Cotton Armor from Applegate Insulation defends against escalating noise pollution and energy prices. Produced from 85% recycled denim and cotton fibers, Cotton Armor is an environmentally safe insulation that provides excellent Sound Transmission Class (STC) ratings:
An R-13 Cotton Armor insulated wall has a 52 STC
An R-19 Cotton Armor insulated wall has a 53 STC
An R-21 Cotton Armor insulated wall has a 54 STC
The higher the STC rating the better the sound deadening ability of the material (STC ratings calculated according to ASTM E-90 testing for sound transmission loss in 24" o.c. steel stud walls and one 5/8th inch layer of type X gypsum on each side).
An R-13 Cotton Armor blanket insulated wall has an STC of 52, which is equivalent to 12 inches of cement. Comparable steel stud walls insulated with fiberglass batts have STC ratings typically in the forties, while a typical 2" x 4" gypsum wood stud wall without insulation has an STC of 33 - 35. Cotton Armor has naturally high STC ratings and is environmentally safe, affordable, energy efficient, easy to install and safe to handle. These factors make it ideal for churches, hospitals, hotels, schools, homes, offices, commercial and residential buildings in which sound control and the ability to hear others is critical for healthy living.
To date, STC ratings in the fifties have been limited to expensive materials and complicated wall configurations, which have put effective sound control out of reach for many. Cotton Armor now makes the noise reduction levels required for a healthy and vibrant lifestyle affordable. Noise pollution may increase susceptibility to heart disease, hypertension, and result in many harmful effects, such as hearing loss, tinnitus, increased stress and sleep deprivation. Cotton Armor protects against the dangers of noise pollution and increases the quality of life by greatly reducing the transmission of sound and thermal energy, quieting life to a manageable level while saving energy dollars.
Cotton Armor's proprietary fiber layering makes it easier to properly size and install than other insulations. Installers and building operators appreciate the advantages of reduced installation time and increased acoustical performance. Because Cotton Armor is made from recycled denim and cotton fibers it is as comfortable, non-irritating and as safe to use as your favorite pair of jeans. Additionally, it is sized for 16" o.c. and 24" o.c. residential and commercial framing, which combined with its rigidity and rebound helps reduce compression, gaps and voids that can significantly decrease acoustical and thermal performance.
Established in 1978, Aaron and his son Terry Applegate began manufacturing cellulose insulation out of a small facility in Okemos, Michigan. Today Applegate, headquartered in Webberville, Michigan, is the largest privately-owned cellulose insulation manufacturer in the world and supplies a variety of insulation products throughout the United States. Applegate currently operates facilities in Michigan, Wisconsin, Pennsylvania, Kentucky, Georgia, Louisiana and Colorado. For additional information regarding Applegate Insulation please visit http://www.ApplegateInsulation.com. To learn more about Cotton Armor visit http://www.MrInsulate.net or call (855) 6COTTON.