Chicago Pneumatic CP 1210 Breaker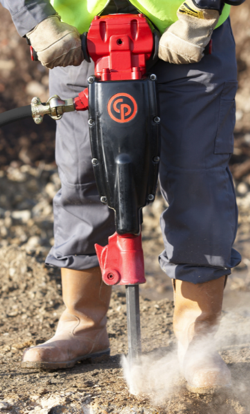 Classed as a 35-pound (25kg) breaker, the Chicago Pneumatic CP 1210 pneumatic breaker is a high power, high performance tool designed to deliver the power and durability necessary for a variety of light to medium construction and plant maintenance applications, such as light demolition of floors, pavements, and roads.
The CP 1210 draws upon the proven track record of the classic with the addition of several performance-enhancing features. An improved swivel design has been added for increased maneuverability, even under pressure. The CP 1210's valve system and percussive mechanism also allow for more overall power, which leads to better productivity. And lubrication grooves on the piston reduce wear on the impact mechanism, increasing the service life of the tool and its major parts.
The CP 1210 is also available both with and without a muffler. The CP 1210 S features an improved muffler that emits considerably less noise than previous versions and increases operator comfort. All of the silenced versions comply with the European Union Directive (2000/14/EC) on noise control.
Reducing the vibrations to which the operator is exposed has become more and more of an issue in many markets. Chicago Pneumatic has long since provided a number of vibro-reduced versions. With its four-bolt back head design and effective muffler, the CP 1210 SVR combines classic performance with comfortable ergonomics. Heavy-duty fronthead springs and more comfortable handles are designed to reduce reaction back to the operator.
The finished product results in drastically reduced vibration emissions and noise levels that are well below the European Union Directive. The reduced vibrations reduce operator fatigue while simultaneously increasing productivity, and in the long run, the negative effects of vibrations on the operator are reduced and more easily controlled.