Cords & Lighting: Appleton Liquidtight Conduit Connectors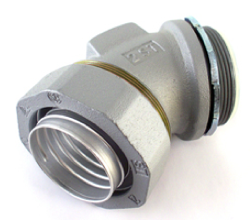 Appleton has added a pre-assembled KO sealing ring with lock nut to its industry-proven Liquidtight ST series of electrical cable and conduit connectors, eliminating the need for additional purchasing and helping contractors achieve installations 25% faster than with competitor's fittings, thanks to a simplified three-piece design.
Bar stock steel or malleable iron construction offers long-lasting performance for maximum value.
The connector's design and superior materials provide for easy field assembly and long-term protection for equipment from water, dust, oil, grease, fumes and hostile contaminants.
Other highlights include:
a compact, slim profile with a small turning radius that makes for easier installation in tight spaces
crimpable ferrule to secure mechanical grounding
deep ferrule threads four times greater than UL pull-out requirements
decimally equivalent to conduit sizes to reduce errors and transaction costs
Appleton ST liquidtight cable and conduit connectors secure ground and seal liquidtight flexible metal conduit to electrical machinery in wet and adverse environments, making them ideal for challenging industrial and OEM usage.
The connectors are UL Listed for use in Class I, Div 2 hazardous and wet locations. The line is offered in trade sizes ranging from 3/8" to 5" in most straight, 45° and 90° configurations with or without insulated throats, external ground lug or wire mesh strain relief. Female hubs (straight) are also available.
For more information, call 800-621-1506. Email On the web at www.appletonelec.com.