Compressors: Atlas Copco XATS 400 JD iT4 Hard Hat portable compressor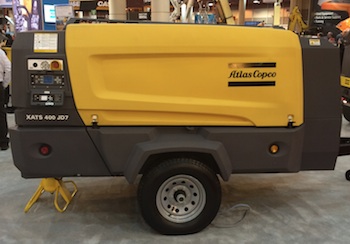 The Atlas Copco XATS 400 JD iT4 compressor tackles a wide range of projects with its dependable output and variable pressure capabilities, moving as much as 400 cfm of air at operating pressures from 58 to 150 psi. This allows contractors to use one compressor for a variety of projects, including operating pneumatic tools, pipeline testing, sandblasting and many other applications.
Rental centers also can serve a wide range of customers with the compressor, which contributes to its high utilization and ROI.
Atlas Copco featured the new XATS 400 JD iT4 Feb. 22-25, 2015, at booth 8935 during The Rental Show in New Orleans.
Atlas Copco designed the XATS 400 with its exclusive HardHat canopy, which is made from highly durable, weather-resistant polyethylene. The canopy not only protects the compressor's components but also resists impacts and will not corrode. This minimizes repairs and contributes to its low cost of ownership and high resale value.
The HardHat canopy features dual self-supporting gas struts so contractors and technicians can easily and quickly flip it open to access internal components, such as the air filter and diesel engine. This speeds up maintenance, which minimizes downtime and reduces cost of ownership.
In addition, the XATS features a high performance, two-stage air intake filter with a service indicator. The air filter effectively prevents dust and dirt from entering the engine and compressor and has long service intervals – features that contribute to greater efficiency.
Contractors adjust settings of the compressor easily with its intuitive controls found on all Atlas Copco compressors. Like all Atlas Copco compressors, the XATS has one of the largest LCD displays in the industry at 3.5 inches, so operators can easily monitor the compressor's status.
The XATS 400 is equipped with 1 by 1.5-inch and 2 by 3/4-inch ball valves as standard. The unit's Tier 4 Interim John Deere diesel engine delivers 125 horsepower and has a 58-gallon fuel tank. The large fuel tank minimizes the number of refills for enhanced productivity and a minimum of 8.5 hours of running time.
The XATS 400 also features a stepless fully automatic regulator that constantly varies the engine speed according to air demand to minimize fuel consumption.