Auger Technologies Pilot Line Controller System Stand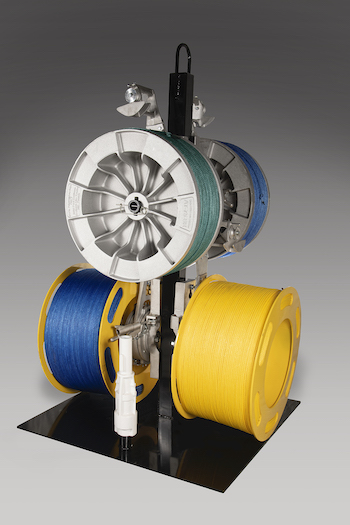 Auger Technologies will introduce a new stand for the efficient and effective storage of up to 4 Pilot Line Controller System (PLCS) in Booth #1012 at The Utility Expo. This robust stand is ideal for either 3000-foot controller, reel, and rope or 6,000-foot controller, reel, and rope.
It is constructed of heavy-duty steel that is primed and powder coated for a long service life in demanding conditions. An integral lifting hook allows the stand to be lifted and moved by a boom truck when on site.
The Auger Technologies PLCS Stand keeps Pilot Line Controllers well organized to reduce or eliminate the damage and delay caused by storing PLCs haphazardly in Gaylords and other similar containers. In addition to convenient storage off site, it also simplifies usage of the PLCS on site, keeping spools close at hand and out of the mud and muck prior to usage.
A winch shaft adaptor is provided with each stand for ease of use in the field. The PLCS stand is ideal for storage of reels used for any overhead environment, including distribution lines, telephone lines, cable TV lines, and more.
Originally designed and patented by Alaskaug in the 1960's, and made in America, the PLC includes a positive braking controller and a storage reel of rope which mounts to the lead pole at any desired height. This unique system, available in wood or non-wood construction, saves labor and eliminates dangling "finger lines."
Simple Installation and Usage
Mounting to a wooden pole is accomplished with lag screws, or with an adjustable chain tightener, and for non-wooden poles with the adjustable chain tightener. Once mounted on the lead pole, the lineman takes the pilot lines up the pole and places them in the stringing blocks as he frames each pole. After these lines are pulled out they can be tied off under tension and left until it is time for stringing the conductor. When the pulling line is ready to be installed, the same storage reel can be mounted on either a pole mounted winch or a line truck winch, allowing the storage reel to rewind the pilot line, thus hauling in the pulling line under pressure.
A brake on the controller allows the storage reel to dissipate the storage line when the rope is pulled and engages when the line is slack, thus eliminating "backwinding" while holding tension during installation of the pilot line. The controller brake is factory set, with adjustment screws provided for fine-tuning if needed. The Pilot Line Controller System can be mounted singularly or in any desired number on the pole for maximum efficiency.
Harrison, OH-based Auger Technologies is an innovator in auger technologies and utility line installation equipment. Their revolutionary line of Alaskaug augers are used throughout the world in varied applications. They offer a variety of cutter heads matched to application requirements, for optimal production and service life. Heat treated cast steel heads offer unparalleled production, available as pin-on interchangeable units of mounted mounted-on flight sections configured for digger derricks or production type derricks. In addition to Pilot Line Controller Systems, they provide a full lineup of augers, Kelly bars, parts, Bit Drivers, and their innovative Tooth Extractors for 0.76, .865, and .990 auger bits.
For additional information visit them online at www.augertech.net, email them at info@augertech.net or write to them at Auger Technologies, PO Box 588, Harrison, OH 45030.