Big Wipes 4x4 Cleaning Wipes Now FDA Registered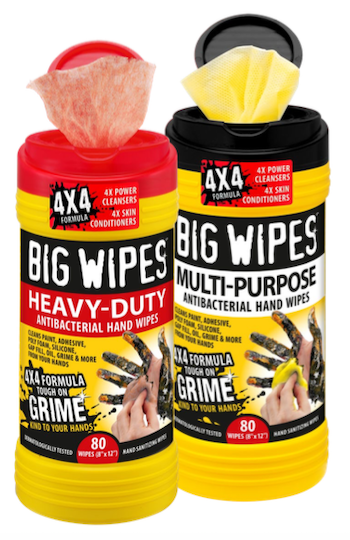 The advanced hi-tech 4X4 formula is unique in the ability to clean a vast range of substances from your hands. In addition to four powerful cleaning agents and four dermatologically tested skin conditioners, NOW the range also contains Benzalkonium Chloride proven effective in reducing bacteria and offering antibacterial protection for your skin.
Big Wipes are an ideal hand cleaning and sanitizing solution for busy trade professionals, who spend much of their time on the move with limited access to a sink. FDA NDC code: 79705.
The truth is that everyone in the trade gets their hands dirty and most of the filth simply doesn't come off with soap and water. The unique benefit of Big Wipes 4x4 is their ability to remove all modern construction sealants, adhesives, paints, coatings and grime in an instant. As they are completely portable, they can be kept close to hand to remove this grime before it gets a chance to fully cure.
In order to look after the skin, the formula contains four of the world's greatest skin conditioners: Aloe Vera, Lanolin, Vitamin E and Glycerin ‐ all helping to nourish and protect the skin. Furthermore, the wipes show zero levels of irritation recorded during a controlled Patch test by dermatologists.
The Big Wipes offer a 3-in-1 portable cleaning experience. Clean all the toughest dirt and grime from your hands, Nourish and protect your skin from drying out and sanitize your hands reducing bacteria's, ALL-IN-ONE!
The formula has been upgraded in two of our leading products with bigger, thicker and tougher fabrics playing a key role in keeping you clean:
Red Top: Heavy Duty - The orange scrub and clean fabric offers fantastic cleaning results that will be enhanced by the 4 x 4 formula. Textured and dual-sided, the scrub face of the wipe removes even the most stubborn grime, while the smooth face absorbs any excess.
Black Top: Multi-Purpose - These wipes contain a power fabric, in a striking yellow color. Multi- Purpose wipes are a leading combination of toughness and absorbency – this material is exclusive to Big Wipes and represents a supreme industrial grade fabric.
Our technical team has delivered a brilliant product that takes portable hand cleaning to a whole new level – super fast and effective and bang up to date with all the latest health and safety requirements. As busy tradespeople, your hands are your most important tools as they are your livelihood, so cleaning them effectively while still being able to care for them is extremely important.
For more about Big Wipes visit www.bigwipesusa.com or see Big Wipes in action on our YouTube channel (www.youtube.com/user/bigwipes).