Cables & Lights: Bluestone Induction Charging LED Flashlight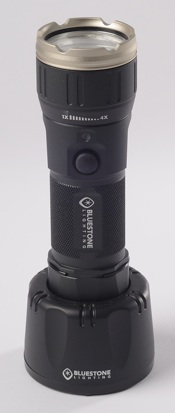 Bluestone Lighting Introduces the Industry's First LED Flashlight to Utilize an Induction Recharging System.
Bluestone Lighting has announced the introduction of the InCharge, an LED flashlight that features an innovative "drop-in" cradle-based induction recharging system. This unique recharging system eliminates the need to directly connect the body of the flashlight to a charging source. The InCharge stands at the ready in its recharging cradle -- simply lift the unit out of its cradle to use, then return the unit to its cradle for recharging.
"The InCharge makes it easy to always keep your flashlight charged," notes Oscar Kourany, Product Manager for Bluestone Lighting. "There's nothing to plug or unplug...you just grab the light and use it, which makes it a perfect one-hand solution. And with our induction charging technology, there are no contacts to corrode or wear out."
Crafted from machined aircraft grade aluminum, the InCharge's body is anodized to a deep gun-metal green, which is accented by a champagne-toned crenellated bezel, making for a very stylish presentation. Cross-hatching around the entire mid-section of the flashlight body provides a secure grip surface, and a wrist lanyard is also included to help prevent dropping or loss. A custom-made belt holster constructed of ballistic nylon is also available for added portability and convenience.
The InCharge uses an advanced nickel metal hydride (NiMH) battery technology in place of the more traditional nickel cadmium (NiCad) battery. As a result, the InCharge is more eco-friendly while avoiding the "battery memory" effect commonly associated with NiCad batteries.
Using the InCharge is simple and intuitive -- all programming functions, including on/off, smooth dimming from 100% to 10%, strobe function, and SOS flashing can be easily activated using a single switch. The entire Bluestone Lighting Professional LED flashlight series offers the ability to focus from floodlight to spotlight (1X-4X) with a simple twist of the flashlight head, and the new InCharge is no exception. An added convenience is an LED charging indicator located on the body of the light. When the light is charging, the indicator glows red, and when fully charged, it glows green -- either way, this indicator makes finding the InCharge a snap when it's resting its cradle in the dark.
Mr. Kourany concludes, "We feel strongly that the InCharge meets real market needs in a way no other flashlight does. Initial response has been outstanding, and we're in the process of pushing the InCharge out into the marketplace in a big way."
The InCharge will be distributed to targeted market segments primarily through selected retailers and specialized catalogs. For additional information on Bluestone Lighting's new InCharge LED flashlight, contact Oscar Kourany, Product Manager, at 888.441.4244, or by email at oscark@bluestonelighting.com.