Bon Tool Mixing & Pouring Barrel Transporter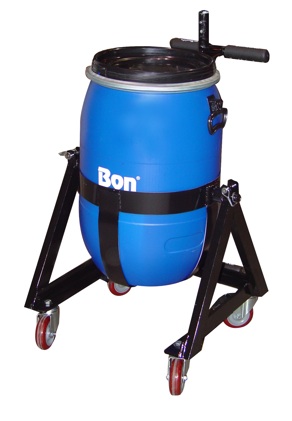 Bon Tool Co. introduces a new Mixing & Pouring Barrel Transporter. A patent is pending on this uniquely designed cart which allows efficient one-person operation for mixing, transporting and pouring flooring materials.
Lower labor cost, reduce worker stress and increase productivity by mixing the material in the barrel, and transporting the barrel to where you need to pour. Standard 15-gallon barrels fit in the cart which is equipped with four smooth-rolling swivel casters to help position the pour to the right position. The stability of the unit provides perfect balance for pouring and placing.
The transporter unit is sold complete with the 15-gallon barrel, transport/pour cart; mixing head attachment, drill and mixing paddle. The mixing attachment features a quick release, variable speed mixing drill with lock-on feature for hand mixing. An adjustable latch on the cart makes it easy to remove the cart for cleaning.
This new cart complements the Bon product line for concrete restoration work which includes spreaders, gauge rakes, squeegees spiked rollers and cove base tools.